The Grim Repair by Soberguy
| | | | | | |
| --- | --- | --- | --- | --- | --- |
| | TEAM: Solo Hero | | SECTOR: INDUSTRIAL | | KIT CLASS: Overlord |
---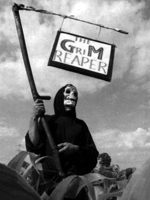 Main Event Winner!

Hall Of Fame!

Survival - 11 wins!
Fight Record
League Wins: 11
League Losses: 2
Out Of League Wins: 0
Out of League Losses: 1
Total Wins: 11
Total Losses: 3
Graviga - Loss 9-12
Sam - Win 12-8
The Planet Eating Planet - Win 15-8
The Zombie Hoard - Win 17-6
MoneyVault - Win 15-8
Lucky Seven - Win 11-5
Gribbinwrech - Win 17-14
Orb - Win 16-12
Shade of the Arena - Win 19-10
Lorn Adams - Win 16-11
Atom-A-Ton - Win 13-11
Rock Sugar Baby - Win 16-13
Crossbow Cupid - Loss 13-14
Lucid - Loss 18-20


Anyone who tells you that you're too old to change careers – don't pay them any mind. I did it, and lemme tell you it was the best decision I ever made. My old job was just so depressing, you know? Work, work, work all the time with no vacations or time off... and don't get me started about the TRAVEL... it was horrendous. The clients were almost always in a bad mood and never happy to see me, and my supervisors were always pushing more and more on me. It seems like just when you finally ploughed through one stack of client files the next would pile up right away – it was never-ending. The work itself well... I mean, it was important obviously but it wasn't exactly rewarding, if you know what I mean. I didn't enjoy my work. It was stressful and it was draining and it didn't leave me a heck of a lot of time for myself... but still, y'know, I stuck with it. I put in a lot of years before I opted for early retirement. Sure they asked me to stay on for a while longer – they even offered me a plum position in the European Division – but I had just had enough. I needed a change of pace, some new challenges. That's why I love what I do now. Oh sure, appliance repair isn't exactly a grand calling, but I'm my own boss and it pays the bills. Besides, after all those years of doing what I was doing, it felt nice to kinda do something that was the exact opposite, if that makes any sense to you. A lot of people ask why I've got that long black scythe mounted and hanging on my wall, especially once they read the plaque that reads "TO JOHN GRIM, IN HONOUR OF 450 YEARS OF LOYAL SERVICE". Most figure it's a gag and I'm not really inclined to dissuade them. It isn't of course, but it's a heck of a lot easier for people to believe that than explain that I was once a Grim Reaper, guiding souls from the mortal plane to the worlds beyond, and that I received that plaque after a lovely retirement party at a hall rented from the local Knights of Columbus. They had a cake made and everything – it really was quite thoughtful. Anyhow, the point is people aren't ready for that, and quite frankly those are years I've worked hard to put behind me. I have a new life now and I'm happier than I've been in ages.
Personality: I'm sure a lot of people wonder just what the heck a Grim Reaper is like in real life, but honestly I think they'd be disappointed with the answer. We're a lot like most people – well, except for the supernatural abilities and immortality, I guess. I mean sure, death is our business but were no more transfixed on the idea than anyone else. It's just a job y'know? You wake up, you punch in, you have a coffee with the guys and then you go gather and guide the souls of the dead to wherever it is they're supposed to be. At the end of your shift you go home, maybe have a shower, cook some dinner, watch a little TV... you know, normal, everyday stuff. Oh sure when you get an eager new guy in they're all "I aM tHe cReEpINg SpecTre of DEATH! YoUr tiMe hAS cOmE MoRtaL!" but after a few years they mellow out and get over the whole Edgar Alan Poe faux Goth thing and just work their shift like the rest of us. My free time hasn't changed much now that I'm retired, I just have a lot more of it. Well, that and the cable TV is 10 times better here in the mortal world than the afterlife. Trust me, watch all the TV you can now, cause you're going to miss it when you're dead.
Strength:

Weak BELOW normal human strength -
can bench press 50 pounds (maybe).
Agility:

Weak BELOW normal human agility.
Slow and uncoordinated.
Body:

Weak BELOW normal human endurance.
Goes down easy and stays there.
Mind:

Standard Normal human mental resources.
| | |
| --- | --- |
| | Death Everlasting |
| | |
| --- | --- |
| | When Your Number's Up... |
| | |
| --- | --- |
| | You Can't Escape It... |
| | |
| --- | --- |
| | And You Never See It Coming... |