The Eighth Day by Rhekarid
| | | | | | |
| --- | --- | --- | --- | --- | --- |
| | TEAM: Freelance Villain | | SECTOR: SCIENCE | | KIT CLASS: Empathy |
---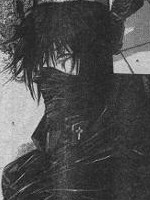 Main Event Winner!

Hall Of Fame!

Survival - 11 wins!

Brutal - 1 fatalaties!
Fight Record
League Wins: 11
League Losses: 3
Out Of League Wins: 0
Out of League Losses: 2
Total Wins: 11
Total Losses: 5
Reckless - Win 24-6
Jack "Killer of Nations" Ferri - Win 21-9
Prof. Lava - Win 24-11
The Enduring Pantheon - Loss 13-17
Mr. Hazard - Win 15-11
Sarah W. - Loss 7-13
Laurelei - Win 16-8
Three Girls fighting over a Crayon - Win 12-10
Lord Geedor w/ Monster Island Crew - Win 17-10
Horatio - Win 13-10
Preston Blair - Win 16-9
Ignorance - Loss 13-15
Judgment - Win 18-7
Horatio - Win 38-28
Kris Falcon: Security Consultant - Loss 7-12
Bethany Morrison - Loss 16-19


The child was going to die. Everyone knew it, though none of them had the heart to say so aloud. He had been sick for months, getting progressively worse with an illness nobody recognized. Every treatment that could be found had been tried, and Maiovan was a world of many talents. Its populace was human, people who had wandered there one way or another from every culture, from a dozen different planets. All manners of science, magic, religion, and medicine could be found, and they had each been given a chance to cure what at this point, everyone knew, could not be cured. The doctors had given up, said their subdued condolences, and quietly left with their paychecks. Now there was only mother and son, in a tiny, disheveled room that was all that remained after possessions had been sold to pay for ultimately futile expert treatment. She knelt by the bed most of the day, but there was more than desperate hope in her vigil. She was building. With money not spent on care, an amalgam of wishes had been slowly constructed: machines implements of prayer, magical artifacts, simply lucky charms, everything from every angle painstakingly pieced together in an intricate sort of device. In her studies she had read about some of the old gods, finally landing on one of the primary deities of her people's past. Surely such a being could cure any ailment, but clearly praying was not enough. She had to make contact, before it was too late. And so early one morning, the strange process was begun. Advanced technology began to hum, spells were cast, the best hopes of all the cultures Maiovan had to offer working with one message; come to me. Something came.
Personality: She wasn't sure, at first, what had happened. The device was there and then gone, apparently consumed in a flash of its own abnormal power, and someone else was standing in the room. It didn't have a distinguishable gender, its body mostly concealed, but had a human shape. The woman didn't know whether she was really seeing something until it spoke aloud, voice raspy and disturbing. "I am here." It looked about the room, something alien in its eyes, foreign emotions and thoughts that couldn't translate properly what they were perceiving. Before the bewildered and increasingly hopeful mother could speak it interrupted, seeming to grow agitated. "But it is not right!" The creature stormed about and knocked over furniture as if it didn't see its surroundings, feeling and smelling the walls with an unsettling aura of panic. "Are you...?" The woman reached out to touch it, only to have the visitor leap back and point accusingly at her, actually taking notice of her for the first time. "You are Man! It is not right! I am not meant to be here with you!" It backed away, still pointing. "Your time was meant to be over. You have had your chance, it's our turn!" Before another word could be gotten in, it turned and fled, all but tearing the door off its hinges in its haste.
Strength:

Weak BELOW normal human strength -
can bench press 50 pounds (maybe).
Agility:

Weak BELOW normal human agility.
Slow and uncoordinated.
Body:

Weak BELOW normal human endurance.
Goes down easy and stays there.
Mind:

Superior Highly educated and ingenious.
A smart cookie.
| | |
| --- | --- |
| | Countdown |
| | |
| --- | --- |
| | Clinging to every Hour |
| | |
| --- | --- |
| | Bells' Last Toll |
| | |
| --- | --- |
| | Epicenter |