Nina Nova by Xyex
| | | | | | |
| --- | --- | --- | --- | --- | --- |
| | TEAM: Freelance Villain | | SECTOR: UPTOWN | | KIT CLASS: Arcane Lore |
---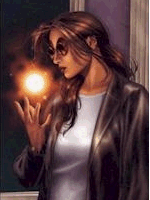 Hall Of Fame!

Survival - 8 wins!

Brutal - 1 fatalaties!
Fight Record
League Wins: 8
League Losses: 2
Out Of League Wins: 0
Out of League Losses: 1
Total Wins: 8
Total Losses: 3
Whisper - Loss 9-10
Mycroff the Conqueror - Win 11-5
Super Squid - Win 13-2
Balken - Win 9-5
Omen - Win 11-6
Skeletal - Win 11-7
John Urden - Win 13-9
The Archivist - Win 12-9
The Fiend Doctor - Win 11-10
Stella Aurorae - Loss 8-12
Armageddon Arms Dealer - Loss 3-15


Nina Nova. It's not a very well known name here in Khazan. Not yet, anyway. I just got here not that long ago, actually. It got a bit too... unfriendly, back home. Of course, I suppose that's to be expected after you assassinate the most popular king a planet has ever had, on live television, at his daughter's wedding. And then proceed to kill said daughter, her almost husband, and about 90% of the spectators just to create a diversion so you can escape, and then get double crossed by the organization that hired you. Yeah, that was real fun. I still don't know where the hell those bozos got a dragon at, or why they used it on me instead of the King. Morons.
But, I digress. See, I can't really complain, I got the money I was promised. I had to take it by force, sure, but then I also got the added satisfaction of watching those losers burn. And the money was more than enough to move here, get me a nice place up in Uptown, and start my business over from scratch. Really, I could have retired with that much money. I'll never spend it all as it is. But why the hell would I retire? I mean, you're not really living unless you're living dangerously, right? Besides, I've put too much damned effort into my training to just stop. I spent fifteen long years training with the Assassin's Guild of Norbleh.
Yeah, Norbleh, got a problem with that? I know, the name's stupid. Don't blame me, blame the idiots that named the damn town. Anyway, yeah, I spent fifteen years with them. Learning magic, training for speed and agility, that kind of thing. Started when I was... wait, no, I'm not going to tell you that. I'd be admitting my age then, no way in hell. Let's just say I've been in this business for more than half of my life and leave it at that, shall we?
So, now I'm here. Getting the word out about my services hasn't been the easiest thing in the world, though. You've got all these idiots in tights running around in this city. Gotta watch you don't tell them what you do or your career gets cut rather short. But I managed to get word of my services out there and got a few jobs already. Most of them were simple small time deals but recently I got one that looked promising. Some guy named Zero, or was that Xero? Well, whatever. All I had to do was kill some guy's girlfriend and I'd earn me three times what I made on the first six jobs I took here, combined. I should have realized nothing is ever that simple, and if something sounds too good to be true, yeah, it usually is.
Personality: I hate being double crossed, you know? It's just not any fun. I do an honest... well, ok, not so honest day's work. But I do it. And I do it well. At least, I'd like to think so. So I'd like to be properly paid for my services. That's not too much to ask, is it? But no, you get cheapskates out there that refuse to pay, or worse, guys that consider you a loose end and decide to try and kill you. Please, I do this for a living. If you were that good you wouldn't have needed to hire me in the first place. Moron. But it still happens. Like that Zoro guy... or, no, Xara? Bah, whatever.
The point is, I did what he wanted and then what do I get for my efforts? The little SOB says 'Thanks, nice job' and then tries to F'ing blow me up! Little prick. Only good thing that came from it is I got to burn down a few buildings. Burning stuff is always a plus to any situation. Yeah, yeah, I admit it, ok? I'm a pyromaniac at heart. It's why fire is my weapon of choice. Anyway, so this guy hires me, I do the job, and then he tries to kill me. And then guess what? The boyfriend of the girl I offed for Xuro... Zaru... Xe... what's-his-name shows up. Apparently he's a superhero in town. Damn, I should have figured that. So, yeah, now I've got him on my ass. Look, kid, I'm just doing my job, K?
And I never did get my money from the guy...
Strength:

Weak BELOW normal human strength -
can bench press 50 pounds (maybe).
Agility:

Superior This fighter can dodge, weave and move
with the grace of an Olympic gymnast.
Body:

Standard Normal human endurance.
Mind:

Standard Normal human mental resources.
| | |
| --- | --- |
| | Planning Makes Perfect |
| | |
| --- | --- |
| | Method of Choice |
| | |
| --- | --- |
| | Dead Aim |
| | |
| --- | --- |
| | Aware of My Surroundings |
Good thing too, the SOB shot some sort of green energy crap at me, blew up the apartment behind me. I figure that's what drew the other guy's attention. I'm there focusing on the guy that hired me when I get the feeling of being watched. Then the other guy goes and shoots his own energy crap at me from behind! Well, can't really blame him. I did kill his girlfriend. 'Sides, I dodged at the last second anyway and he knocked Zura or Zoru or whatever his name is through the wall. Ironic, I suppose. Kid probably saved my life... I kinda suck at hand-to-hand.
| | |
| --- | --- |
| | Can't Hit Me |
| | |
| --- | --- |
| | Physical Training |
| | |
| --- | --- |
| | Riding the Flames |
| | |
| --- | --- |
| | In My Element |
| | |
| --- | --- |
| | Can't See Me |
Only, it wasn't really shimmering, of course. You know the effect when heat's rising, how it distorts things and crap? And here I just happen to use fire as weapon, I was staring my answer right in the face. Took a few days of trial and error to get right but now I can wrap myself up in a nice cocoon of heat that distorts the light around my body and makes me invisible. The cocoon weakens a little when I generate a fireball, but meh, not a real issue. I don't plan on attacking anyone whent they're looking my way so they still wont see me. No more sore shoulders, no trying to sneak up on someone when all they have to do is turn around and see me creeping there and yell at me to knock me out, and no more needing to play run and gun with the various super powered bozos in this city.
'Bout damn time, too. I was getting seriously sick of that crap. Now, I think I'm going to go put another ice pack on my shoulder and get me out a bottle of wine.
| | |
| --- | --- |
| | A More Traditional Weapon |
Imagine that, a magical flame using assassin with a six shooter. Yeah, I got a revolver. Revolvers are just cooler than automatics. I've always thought so anyway. It only carries six rounds and I'm not going to bother carrying extras with me. But really, I don't see me needing more than six shots. I am a pretty good aim at distance shooting after all. So even if my fire craps out on me again I can still keep my distance and snipe your ass. Still causes my heat wrap to shimmer when I shoot but I'll make sure whoever I'm going to shoot isn't looking at me before I do. Sucks for you, but I'm pleased.