Jason Carver by Ren
| | | | | | |
| --- | --- | --- | --- | --- | --- |
| | TEAM: Freelance Villain | | SECTOR: SCIENCE | | KIT CLASS: Everyman |
---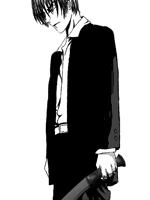 Hall Of Fame!

Survival - 10 wins!

Brutal - 1 fatalaties!
Fight Record
League Wins: 10
League Losses: 1
Out Of League Wins: 0
Out of League Losses: 1
Total Wins: 10
Total Losses: 2
POWAHHHAS listing - Win 12-8
Mordekai - Loss 7-9
The Perfectionist - Win 11-10
Raitag Devious - Win 12-7
Just Ice - Win 13-7
Kiril - Win 20-6
Agent 9 - Win 16-9
#1 - Win 14-8
Nathen DiCapelli - Win 18-8
Droguk Doruun - Win 15-9
Fiona - Win 13-10
Rivenn - - - Depressed - Loss 14-16


I liked the idea of going to college. I had interests in biology, medicine, the mind, the body, how it all worked. I didn't have anything in mind, but I wanted to learn.... Now I work in a pharmacy, handing out medications to anybody with a valid prescription. There's some good to it, with the antibiotics, analgesics, and antivenoms. It's not an enjoyable job and there was no real reason to stay there besides a steady paycheck. I say was because now I have a reason. So, for now, I'll keep being a pharmacy technician. That way I can be right in front and see it with my own eyes. Not that this is the only place, but it's a good, good start. Whenever I hear the bell up front, I take a look and hope I find some happy, smiling human being. Somebody I can leave alone. They help keep me going.
Personality: I can see it everywhere. Emotional shit. It's almost in the air. That might be why it's so dry and bitter around this city. You can only stand it for so long, like sticking your head in a sewer. I see depression and misery walking past schoolyards and playgrounds, staring through windows of houses, and walking through the front doors of this store. I see a lot of them coming in for their medications, hoping someday they'll be happy like everyone else. Sometimes it happens, and I'd be happy for them if I knew them. Their lives are shit because of other people or some temporary physical condition, something that can be remedied with science and perseverance and they do. Then there are the ones with things that will never go away. The shit they're stewing in because it's seeping out of their pores, because it's a part of their body and they can't do anything about it. The ones who survive say it makes them stronger, but they only live to spread it. It's in their genes and they're spreading it like a virus. I studied mental health and human biology when I was in college. There are a lot of them. Manic depression, congenital heart defects, forms of sclerosis and epilepsy, borderline personality and cognitive disorders, spina bifida, autism, schizophrenia, lots of syndromes with names in front of them, those can be genetic. Some of them don't even have medications because the prognosis includes the words 'no known treatment', the ones that are so bad I don't even need their prescriptions to know something is wrong with them and that it'll never go away. You can tell by how they act or look, and I guarantee that someone is miserable because of them, whether it's themselves or someone close to them. It's too much and something has to be done about it. Society is fucking itself over with it's own humanity. I understand it. They're right too. What I do is inhumane and brutal and I have no right to do it. It's funny how they're wrong at the same time.
Strength:

Standard Normal human strength.
Agility:

Standard Normal human agility.
Body:

Standard Normal human endurance.
Mind:

Superior Highly educated and ingenious.
A smart cookie.
| | |
| --- | --- |
| | Treachery |
| | |
| --- | --- |
| | Hunt |
| | |
| --- | --- |
| | Truth |
| | |
| --- | --- |
| | Consequences |
| | |
| --- | --- |
| | Form-Fitting |
| | |
| --- | --- |
| | Senselessness |