Persephone Coullion by CinderyRabbit
| | | | | | |
| --- | --- | --- | --- | --- | --- |
| | TEAM: Freelance Villain | | SECTOR: UPTOWN | | KIT CLASS: Empathy |
---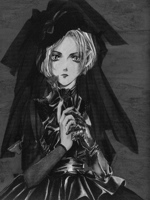 Hall Of Fame!

Survival - 9 wins!

Brutal - 1 fatalaties!
Fight Record
League Wins: 9
League Losses: 3
Out Of League Wins: 0
Out of League Losses: 1
Total Wins: 9
Total Losses: 4
Aaron Blue - Win 20-6
Lilith Restored - Win 14-6
Aquamarina - Win 10-8
Wraith - Win 16-8
Skirmish - Win 11-5
Baker's Dozen - Win 13-8
Lexington Miles - Win 12-7
The K-Collective - Loss 7-8
Poodle-Man - Win 12-8
Lincoln Matthews - Loss 10-13
Checkered Knight - Loss 12-13
Billy Hardcore - Win 11-8
Bone - Loss 7-9


Persephone was an excellent, happy student, according to her teachers. They all loved her. Quiet and well-behaved, she was a star of the school algebra team as well as an accomplished member of the junior choir. Her actual life was not nearly so excellent, nor so happy. Her father had left her mother with only enough money to pay for the house and schooling and enough stress to cause a drinking problem. At school, Persephone persevered in her classes, taking no notice of the kids around her, of their parents who would come to pick them up, hug them and take them home while she waited for the bus. She was un-phased. That was just the way it was. Then at some point, her mother decided to get more involved with her life, and her schooling. And soon, some teachers began to love Persephone's mom more than Persephone. The rumors flew. Such scandalous behavior was unheard of at an institution such as this. Persephone didn't notice; she didn't care to pay attention to such things and rather focused on reading and doing her homework. She pretended not to hear things whispered as she would walk past in the hallways, stand nonplussed at the jokes bantered about during recess. Then one day, it happened. Some older boys decided to try to take advantage of the young Persephone. She didn't understand what was happening. She was just sitting in a corner of the courtyard during lunch, reading a book, while they slowly came up and surrounded her. She didn't know what was going on, but she was scared. They were gesturing. Then one of them grabbed her wrist. That's when she lost it, that's when little Persephone changed forever. To this day, she doesn't remember what happened after that moment.
Personality: Her next waking moment was in a facility, surrounded by rubber and totally insulated. Doctors and researchers always asking her questions, poking her, prodding her. Insulting her. Men, all of them, touching her, scaring her. This was the way it must be, she decided. They found her dangerous. She knew she was more powerful than them, could feel and see things that they couldn't. She knew this fascinated them, but she wasn't going to give into them. They were as threatened by her as she was by them, and she just wanted to be left alone. One day, her mother came to visit her with a friend, named Ms. Franklin. Ms. Franklin made her feel at ease. She didn't talk down to her like everyone else; Ms. Franklin treated her with respect and not like a child, not like a girl. Ms. Franklin was going to take her to something called the Oasis Academy, where she could study again and not feel worry about persecution for her unique abilities. She was finally going somewhere where she would be safe again.
Strength:

Weak BELOW normal human strength -
can bench press 50 pounds (maybe).
Agility:

Standard Normal human agility.
Body:

Standard Normal human endurance.
Mind:

Superior Highly educated and ingenious.
A smart cookie.
| | |
| --- | --- |
| | Field Manipulation: Binding |
| | |
| --- | --- |
| | Power projection |
| | |
| --- | --- |
| | Immunity: Pheremones |
| | |
| --- | --- |
| | Air surfing |
| | |
| --- | --- |
| | Resistances: Cyberware |
| | |
| --- | --- |
| | Field manipulation: Projection |