Silver Siren by Soberguy
| | | | | | |
| --- | --- | --- | --- | --- | --- |
| | TEAM: Solo Hero | | SECTOR: LOWTOWN | | KIT CLASS: Olympian |
---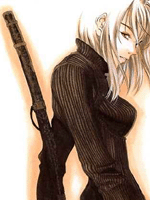 Main Event Winner!

Hall Of Fame!

Survival - 14 wins!
Fight Record
League Wins: 11
League Losses: 1
Out Of League Wins: 3
Out of League Losses: 1
Total Wins: 14
Total Losses: 2
The Institute of Khazan - Win 13-9
The Two Time Wizards - Win 15-6
Texcatlipoca - Win 11-8
Zigmat the Future Monkey - Win 11-8
Xavier & VIVIAN - Win 13-10
Dominus Mortis - Win 14-7
The Gambler - Win 13-9
Joseph Keagan - Win 16-7
Seryph Gibbons - Win 16-8
Hassae Hero - Win 18-8
Crossbow Cupid - Win 19-9
Thomas Bishop - Loss 9-17
Thanatopsis - Win 21-14
Lucid - Win 16-11
Quietus - Win 13-12
Sphere - Loss 13-16


One of the very first childhood memories I have is of my father. Even now I can see him quite clearly – standing in my living room wearing a blue party hat with pink balloons on it. I was only maybe 3 or 4 years old, but still I recognized how silly his long straggly hair looked topped with this tiny little cardboard hat, held on by a thin elastic tucked beneath his chin. My party had ended 3 hours earlier, but the lateness I was so despondent over earlier was immediately forgiven – washed away by my joy over his arrival. I giggled loudly as he lifted me into the air and spun me around, making airplane noises until I was almost out of breath from laughing. Placing me gently on the sofa, he reached into the inside pocket of his trench coat and removed a little rag doll with a green flower dress, blue button eyes and a wide stitched-on smile. "Happy Birthday, pumpkin," he said "look – she has pretty red hair, just like you." I grabbed the little dolly and held it tight, releasing it only long enough to give my father a giant hug and a loving kiss on the cheek. I named her "Lucy" and she was the most precious thing in the world to me, because she had been given to me by my daddy. Ten minutes later, he was gone again – and this time I would not see him again for another 7 months – but every night my mother told me how much my daddy loved me, and no matter where he was he was always thinking of us. It would be many years before I realized that Lucy was one of the hundreds of exploding toys created by Toy Terrifico while my father was in his employ. The explosives had been haphazardly removed, of course, after he grabbed the dud as a last minute gift on yet another forgotten birthday, but the blasting cap was left in the entire time. For half my life I carried that doll around to remind me of the father I adored and yet barely knew, but at any time it could have blown up in my face because of his neglect. Even now I can't think of a more perfect representation of my relationship with him. All those years spent trying to garner his affection. Believing in the love-lorn lies my mother told to protect him. Sacrificing my childhood to be just like him. It was all make-believe. He was a make-believe father, a make-believe husband and the make-believe centre of my make-believe world. I've spent most of my life just playing dollies – playing dollies and waiting for the explosion – but not anymore. I'm not his little girl anymore. He isn't my father. He never was. My name is Molly Anne Murphy, and I'm all grown up now.
Personality: I remember I first met Molly about 3 years ago when we were both working the Agostino kidnapping. We were only what, 16 or 17, but I remember being totally intimidated by her. I mean, we had both only just started our careers as crimefighters, but she was so far ahead of the game. She was so cool, so collected, so professional. Nothing scared her, nothing broke her concentration or focus. Here I was, some dumb, naοve kid with big ugly goggles and a lame crossbow and she's leaping from rooftop to rooftop with a flowing silver mane, a shotgun and a fistful of whoopass. She was fast, she was strong and she always knew exactly what to do, but she never talked down to me – not even in the very beginning. There was a kindness there beneath her rough exterior, a genuine fondness for the underdog which allowed her to take control of a situation without making anyone feel inferior or excluded. I guess that's why she wound up the leader of our little trio – it just seemed so natural that me and Kyoshi never really questioned it. As we got to now each other more though, I realized that beneath her cool exterior she was really very troubled. Most of it has to do with her father – surprise, surprise – who is a total jerk, by the way. It's such a touchy subject with her though. Even now, as much as our love allows us to confide in each other, that's a subject I do my best to avoid. When she doesn't think of him, she's almost normal, y'know?
Strength:

Superior The pinnacle of human strength.
Can bench press 1000 pounds.
Agility:

Superior This fighter can dodge, weave and move
with the grace of an Olympic gymnast.
Body:

Superior Hardy.
Takes punishment like a heavyweight fighter or wrester.
Mind:

Superior Highly educated and ingenious.
A smart cookie.
| | |
| --- | --- |
| | Grace |
| | |
| --- | --- |
| | Fury |
| | |
| --- | --- |
| | Lucy |
| | |
| --- | --- |
| | Vision |
| | |
| --- | --- |
| | Safety |
| | |
| --- | --- |
| | Forethought |
| | |
| --- | --- |
| | Intelligence |