When Worlds Collide
The year: December 21st, 2012
As far as grand scale astrological events go, this was the granddaddy of them all. At approximately one minute after midnight, December 21st, the Sun began to align with the center of the galaxy. Conversely, this event was not exclusively a Milky Way occurrence. This affair was the simultaneous configuration of dozens of worlds across multiple planes of existence. The synchronization caused for at least a dozen life sustaining planets to begin to merge into one amalgamated mega planet. This amalgam would only occur once in scores of lifetimes. It was an event that would only last a year: an experience beyond the scope of any near sighted mind. Now as one mega planet, this mammoth Earth must cope with intersecting plant life, beings and landscapes beyond imagination. The shift unbalances the natural state of the singular worlds. Lost worlds become found. Conquered lands overcome. Dinosaur meets man. Alien meets monster. Future meets present. But worst still, this planet must deal with an awoken wickedness. Something that was laid to rest eons ago has become free in this shifting world: something evil. Something that had long conquered it's own galaxy. Its very presence is felt immediately. The world knows something is wrong and within this new world many lives will intersect for better and worse. This is their story. This is a tale of what ensues When Worlds Collide!
The Mithril chambers trembled under the pressure of some unknown force from above the underground world of the Great City of the Kar people. Many were fearful that some nameless despot was once again seeking claim to their coveted metal. All mining ceased as the majority of the Kar people fled to the great hall for some sort of official announcement. As accustomed, their mighty king stepped forward and convened the assembly. When Na-kar-Kto Razorback spoke, the people listened. His word was bond. His voice commanded attention. His declarations eased the people to a peace of mind even as the covering above them quavered. He insisted that he would send a small raiding party to the surface to quickly assess the situation.
Hurriedly, a team of the Razorbacks best men were collected and sent upwards to the quandary. Within minutes, the same brave men had come bursting back into the underground. An alarming beautiful plume of flowers and surface dwellers barreled in behind them. The surface dwellers ran to Kto and grabbed at his Gynosphinx fur. "Hide us, master! Refuge…Refuge!!" They sobbed. The eyes of the Kar force were wide as children. Their faces adorned with delightful smiles. They immediately had begun to play tiddlywinks upon entering the main hall. Kto was not amused. He would not tolerate this effrontery upon his territories, nor could he endure the seeming madness of his men. Swiftly, he grabbed his arms and sought to meet this strange force that held sway over his people. No man within his power would seek to stop the mighty king. For any danger too great for the kingdom was met face-to-face by Kto. It would be a dreadful day for whatever wickedness lay above. Those not sobbing or squealing with laughter, cried out in cheers for their fearless leader.
"Kraktu-Mlo-tomo (She who Topples Mountains), surely there is some great danger that threatens to crumble the prodigious walls of the Kar. If it cannot be met with reason, then let It be toppled." He said ceremoniously to his six foot long double axe. The mass cheered in accord, but was met with a massive crushing sound of what could only be footsteps from above. Kto made his way to the stairwell that would hold his destiny. Upon entering the surface he is instantaneously met with the largest creature he has ever encountered. If there were an expression to exhibit horror, awe and excitement concurrently, surely Kto's face betrayed it. Before him was a mountainous beast that could be confused with a spider, yet nothing like any spider that Kto had ever encountered. It towered at least sixty feet above ground. Surrounding it were the crumbled city buildings of Tnsada. Its pelt, an appealing pink, its eyes outsized and innocent not unlike his men displayed earlier; and upon his head, he wore a crown that was only slightly smaller than Kto himself. Kto's face went flush. It. Was. Cute. Kto barely knew how to proceed when unexpectantly…the thing spoke. "I CAN HAZ MATE?" it rumbled. Kto's eyes widen in shock and revulsion.
"HELL NO!" He returned and charged forward, axe in hand.
This fight:
Na-kar-kto Razorback vs. Adorachnus Rex aka The Great Pink King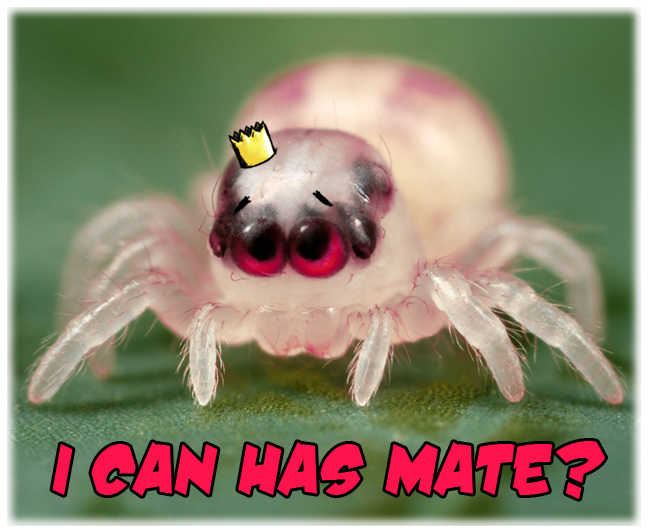 The Rules:
1. No quoting. This is a turn based RP, so no need to quote. One person attacks/defends, the next person attacks/defends until someone dies. Simple as that.
2. Limit the OOC. If you have a non-current or current fight related question, go to the
RP planning board
and ask it. I want this to flow smoothly.
3. No Role playing your opponent. You can state your move, but not your opponents reaction.
4. Have fun. I will sometimes tell you what damage (if any) you did to your opponent and I will let you know when one of you drops.
5. Whoever posts first gets first attack.
6. All Peoples choice voters: You can vote however you want. Whether it's based on how well they play, how well they write, how cool their character is or if you just like them as a person...it's up to you. Just vote.
Let's get it on!!