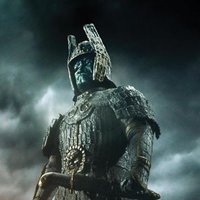 Daimajin
CBUB Wins: 0
CBUB Losses: 0
Win Percentage: 0%
Added by: Dinsdale Piranha
Read more about Daimajin at: Wikipedia
Official Site: Kadokawa Pictures
The is a daikaiju (giant monster) from the Daimajin trilogy created by Daiei. All three movies in the trilogy — Daimajin, Return of Daimajin (Daimajin ikaru), and Wrath of Daimajin (Daimajin gyakushu) — were made in 1966, and were released months apart. Daimajin Kanon a new television drama based on the films premiered in Japan in 2010. It features a new Daimajin and takes place in modern-day Japan.
The movie opens with a household of peasants cowering during a series of earth tremor that are interpreted as the escape attempts of Daimajin, a spirit trapped within the mountain. The village gathers at their shrine. This is observed by the local feudal boss, Lord Hanabasa, a good and just man. It is also observed by his treacherous chamberlain, Samanosuke (Yutaro Gomi). Samanosuke has been waiting for just such a diversion to stage a coup d'état.
As the villagers pray, Samanosuke and his henchmen slaughter Hanabasa and his wife, but their son and daughter escape, aided by the heroic samurai Kogenta (Jun Fujimaki). Back at the shrine, Samanosuke's men break up the meeting, forbidding all such gatherings in the future. The priestess issues a dire warning, but the men ignore her.
Discouraged, the priestess, Shinobu, goes home, only to find Kogenta and the two children. She takes them up the side of the mountain, into forbidden territory, where the stone idol which is Daimajin stands, half-buried into the side of the mountain. Near this idol is an ancient temple - safe as only Shinobu knows of its existence.
No match records for this character.
No match records for this character.