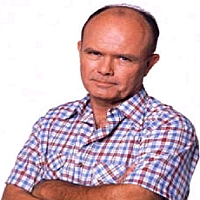 Red Forman
CBUB Wins: 10
CBUB Losses: 6
Win Percentage: 62.50%
Added by: Mullon
Read more about Red Forman at: Wikipedia
Official Site: Fox Broadcasting Company
Reginald Albert "Red" Forman (born December 7, 1927 in Point Place, Wisconsin) is a fictional character on the Fox sitcom That '70s Show, portrayed by Kurtwood Smith.
Red is one of the classic archetypes of the "grumpy man". Red's hobbies include working with his power tools, drinking beer, watching television (especially sports events involving Wisconsin teams), reading the newspaper, hunting, and fishing. In general Red enjoys being left alone, and doesn't care that he has few real friends besides Kitty and sometimes Bob. Except for when it comes to his wife, Red is usually shown to be a misanthrope. He dislikes talking to his neighbors, the Pinciottis, because he might end up having to spend time with them, something which happens more than he would like. Red also enjoys killing things, such as every new batch of squirrels that appears in the spring, and the chipmunks who steal the tomatoes Kitty grows in the garden. He is left-handed, as seen in the episode, "Streaking." Red often goes away on solo fishing trips when he is very angry. Eric once noted that Red found gutting worms on a hook to be very therapeutic.
Red has very specific ideas about what men can and cannot do, believing that they should keep their emotions bottled up and be skilled at physical sports like hunting, martial arts and football. He does not think they should hug or express "love" for each other ; he once warned Eric that if Eric told him he loved him, Red's heart would explode. He also has a hard time expressing his own emotions except when he is angry. When he was grateful to Eric for staying home to help support the family after his heart attack and Kitty's menopause, he ordered Eric to go out and mow the lawn, adding awkwardly that "the...lawn...thanks you for staying home."
He never graduated from high school, or at least was called to duty before he got a chance to, as evidenced from him telling Eric that during his senior year of high school, he was in Okinawa shooting at Japanese snipers and didn't have time for friends and cars back home.