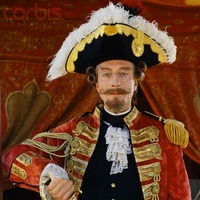 Baron Munchausen
CBUB Wins: 0
CBUB Losses: 0
Win Percentage: 0%
Added by: Betterman
Read more about Baron Munchausen at: Wikipedia
Official Site: Rudolf Erich Raspe
The Adventures of Baron Munchausen is a 1989 British adventure fantasy comedy film written and directed by Terry Gilliam, starring John Neville, Sarah Polley, Eric Idle, Jonathan Pryce, Oliver Reed, Uma Thurman, and Robin Williams (credited as Ray D. Tutto).
Based on the outrageous tall tales that the 18th Century German nobleman Baron Münchhausen was alleged to have told about his wartime exploits against the Ottoman Empire, the film was well received by critics but was nonetheless a box office bomb.
The film begins in an unnamed war-torn European city in the late 18th century (dubbed "The Age of Reason" in an opening caption), where, amidst explosions and gunfire from a large Turkish army outside the city gates, a fanciful touring stage production of Baron Münchhausen's life and adventures is taking place. Backstage, city official "The Right Ordinary Horatio Jackson" reinforces the city's commitment to reason (here meaning uniformity and unexceptionality) by ordering the execution of a soldier (Sting in a cameo) who had just accomplished a near-superhuman feat of bravery, claiming that his bravery is demoralizing to other soldiers. Not far into the play, an elderly man claiming to be the real Baron interrupts the show, protesting its many inaccuracies. Over the complaints of the audience, the theatre company and Jackson, the "real" Baron gains the house's attention and narrates through flashback an account of one of his adventures, of a life-or-death wager with the Grand Turk, where the younger Baron's life is saved only by his amazing luck plus the assistance of his remarkable associates: Berthold, the world's fastest runner; Adolphus, a rifleman with superhuman eyesight; Gustavus, who possesses extraordinary hearing, and sufficient lung power to knock down an army by exhaling; and the fantastically strong Albrecht.
When gunfire disrupts the elderly Baron's story, the importance of saving the city eclipses the show. The Baron wanders backstage intending to die, until the exuberantly enthusiastic questioning of Sally Salt, the young daughter of the theater company's leader, persuades him to remain living. Insisting that he alone can save the city, the Baron escapes the city's walls in a hot air balloon constructed of women's underwear, accompanied by Sally as a stowaway. The balloon expedition proceeds to the Moon, where the Baron, rejuvenated by the escape, finds his old associate Berthold, but angers the King of the Moon, who resents the Baron for his romantic past with the Queen of the Moon. A bungled escape from the Moon brings the trio back to (and beneath) the Earth, where the Roman God Vulcan hosts his guests with courtesy and Albrecht is found. The Baron and Vulcan's wife, the Goddess Venus, attempt a romantic interlude by waltzing in air, but this cuts short the hospitality and Vulcan expels the now-foursome from his kingdom into the South Seas.
No match records for this character.
No match records for this character.