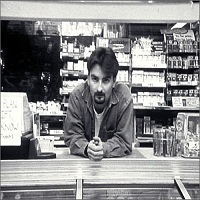 Dante Hicks
CBUB Wins: 1
CBUB Losses: 2
Win Percentage: 33.33%
Added by: ScrewAttackFan25
Read more about Dante Hicks at: Wikipedia
Official Site: View Askew Productions
This is a list of View Askewniverse characters.
Dante Hicks, played by Brian O'Halloran, is 22 (33 in Clerks II), works at the Quick Stop Market in Leonardo, New Jersey, and still lives with his parents. He feels that because he runs the store, he is independent and in control of his life, and yet, he is a push-over who often agrees to work when he doesn't have to (hence his catch phrase, "I'm not even supposed to be here today!"). He frequently gets into debates ranging from philosophy to Star Wars with his best friend, fellow clerk Randal Graves, who works at the adjacent RST Video Store.
Dante is fairly well-meaning and sensible (especially when compared with his best friend Randal), and is easily agitated by Randal's actions or behavior, particularly when Randal's actions lead to negative consequences. For example, Dante often scolds Randal for disrespecting customers, while Randal often tries to defend his actions.
The film centers on the chaotic events of a day at the Quick Stop that Dante must deal with. Among other problems, Dante becomes the target of an anti-smoking mob who pelt him with cigarettes, and he is issued a summons and fined for selling cigarettes to a four-year-old, a crime Randal had in fact negligently committed. In addition, he is continually harassed by Jay and Silent Bob (Jason Mewes and Kevin Smith), two drug dealers who loiter in front of the store all day and often like to go inside and steal. A running gag throughout the film is the scent of shoe polish on him, as he uses some to write a makeshift open sign to hang over the stuck window shutters of the store.
No match records for this character.