| | |
| --- | --- |
| Character sourced from: Toons | |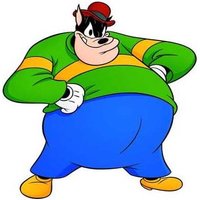 Pete
CBUB Wins: 3
CBUB Losses: 7
Win Percentage: 30.00%
Added by: agustinaldo
Read more about Pete at: Wikipedia
Official Site: Disney
Pete (also known by variations of his name, including Peg-Leg Pete, Black Pete, Big Pete, Bad Pete, Big Bad Pete, Mighty Pete, Bootleg Pete, Mr. Peter Pete, and Pete the Cat) is a cartoon character from the Walt Disney Company studios. He is an anthropomorphic cat (since 1928; earlier drawn as a bear) and is sometimes depicted with a peg leg, and generally depicted as the arch enemy or rival of Mickey Mouse, Donald Duck, and Goofy. Though usually associated with the Mickey Mouse universe, Pete appeared in Disney's animated cartoon series Alice Comedies before the first appearance of Mickey Mouse, and is Disney's oldest continuing character. Though Pete is officially a cat, his feline appearance was later subdued. In the TV series Goof Troop, he somewhat resembled a dog like many other characters in the series.
Comic book stories have depicted Pete as being descended from a long line of villains, highwaymen and outlaws. Even historical figures such as Attila the Hun, Blackbeard, and Antonio López de Santa Anna have been included among his ancestors. His mother is known only as Maw Pete and was mentioned in the story "Donald Duck Finds Pirate Gold" by Carl Barks and Jack Hannah (first published October, 1942) as a resident of Pittsburgh, Pennsylvania, USA. Her first actual appearance however was in "The River Pirates" (first published September, 1968) by Carl Fallberg and Paul Murry. The same story introduced Li'l Pete, Black Pete's fraternal twin brother who seems to be afflicted with dwarfism. In December, 1998, the Mickey Mouse comic strip introduced an older sister of Pete. Petula is the television host of the cooking show Petula's Pantry. She finds time however to seek revenge against Mickey for condemning her "baby brother" to life imprisonment.
Better-known and more enduring as characters are two figures created by Romano Scarpa for Italian Disney comics. Trudy Van Tubb appeared first, and was introduced in "Topolino e la collana Chirikawa" ("Mickey Mouse and the Chirikawa Necklace", first published on March 10, 1960). This female partner of Pete was introduced as a childhood acquaintance of his: they are even shown as kids kidnapping Mickey when he was a baby. However, Trudy soon became Pete's girlfriend, his partner-in-crime and roommate—whenever they hold residence out of prison, that is. Their relationship seems to have evolved to a long-standing common-law marriage. This is occasionally used in contrast to Mickey's eternal engagement to Minnie Mouse and Goofy's determination to remain a bachelor. Trudy and Pete also have two hellion nephews named Pierino and Pieretto who often serve as foils for Mickey or Mickey's nephews Morty and Ferdie Fieldmouse.
The second cousin to be introduced was criminal scientist Portis (Plottigat in the original Italian version; English name first used in Walt Disney's Comics and Stories 695, 2008). Portis first appeared in "Topolino e il Pippo-lupo" (approximately "Mickey Mouse and the Weregoof"; January 9, 1977). Portis is a firm believer in the saying "knowledge is power". He considers himself superior to most others in both intellect and education, therefore a rightful leader. However, Portis often finds himself employed by gangs under Pete or even the Phantom Blot. Both of the latter are considered better connected within the Mouseton version of organized crime.







Images with a green border may be set as the character's main profile image.
For images 200x200 or 300x300 pixels square.