| | |
| --- | --- |
| Character sourced from: Horror | |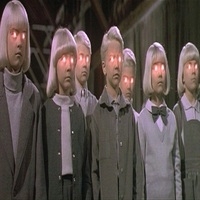 The Sinister Children (Village Of The Damned)
CBUB Wins: 0
CBUB Losses: 1
Win Percentage: 0%
Added by: CrinosVegeta
Read more about The Sinister Children (Village Of The Damned) at: Wikipedia
Official Site: MGM
Village of the Damned is a 1960 British science fiction film by German director Wolf Rilla. The film is a fairly faithful adaptation of the novel The Midwich Cuckoos by John Wyndham. The lead role of Professor Gordon Zellaby was played by George Sanders. This film was #92 on Bravo's 100 Scariest Movie Moments. A sequel, Children of the Damned, followed in 1963, as well as a remake in 1995.
All of the inhabitants (including the animals) of the British village of Midwich suddenly fall unconscious, and anyone entering the village also loses consciousness. The military arrives and establishes a cordon. The pilot of an observation aircraft goes below 5,000 feet, loses consciousness, and the plane crashes. A five mile exclusion zone around the village is established for all aircraft. The military send in a man wearing a gas mask, but he too falls unconscious and is pulled back by a safety rope. The man awakens, reporting a cold sensation just before passing out. At nearly that very moment, the villagers regain consciousness, seeming otherwise unaffected. The incident is referred to as a "time-out," and no cause is determined.
About two months later, all women and girls of childbearing age who were in the affected area are discovered to be pregnant, sparking many accusations of infidelity and premarital sex. The accusations fade as the extraordinary nature of the pregnancies is discovered. All of the women give birth on the same day, and the doctor doing the bulk of the deliveries reports on the unusual appearance of the children, who all have unusual scalp hair texture and colour (pale blond, almost white), striking eyes and unusual finger nails. As they grow, and develop at impossible speed, it becomes clear that they also have a powerful telepathic bond with one another. They can tell each other anything that they see from great distances. As one learns something, so do the others.
Three years later village resident Professor Gordon Zellaby (Sanders), who is connected to the military via his brother-in-law (Gwynn), attends a meeting with British Intelligence to discuss the children. There he learns that Midwich was not the only place affected, and followup investigations had revealed similar phenomena in other areas of the world.
No match records for this character.