| | |
| --- | --- |
| Character sourced from: Sci-Fi | |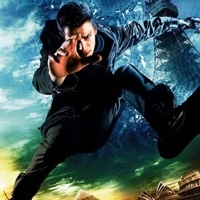 David Rice (Jumper)
CBUB Wins: 4
CBUB Losses: 2
Win Percentage: 66.67%
Added by: bigballerju
Read more about David Rice (Jumper) at: Wikipedia
Official Site: Fox
Jumper is a 2008 American science fiction film, loosely based on the 1992 science fiction novel of the same name by Steven Gould. The film is directed by Doug Liman and stars Hayden Christensen, Samuel L. Jackson, Jamie Bell, Rachel Bilson, Max Thieriot, Annasophia Robb, and Diane Lane. The film follows a young man capable of teleporting as he is chased by a secret society intent on killing him.
The script went through a rewrite prior to filming and the roles for the main characters were changed during production. Jumper was filmed in 20 cities in 14 countries between 2006 and 2007. The film was released on February 14, 2008 and a soundtrack was released on February 19. The film held the first position in its opening weekend with $27.3 million, but despite this success, reviews from critics were generally negative. Review aggregator Rotten Tomatoes recorded a 16% approval rating and 35/100 on Metacritic. Several novels were developed as tie-ins to the film along with a video game for the Xbox 360, PlayStation 2, and Wii consoles, named Jumper: Griffin's Story. The DVD was released on June 10, 2008, and both Christensen and Liman have spoken of one or more sequel.
Teenager David Rice gives his crush, Millie, a snow globe, knowing her dreams of traveling someday. A bully, Mark, throws the globe onto the ice near a river. While trying to retrieve it, David falls through the ice and is pulled away by the current. He suddenly finds himself in the local library with drenched clothes. He discovers he can "Jump", or teleport, disappearing from one place and instantly appearing in another. Unhappy with his life, he runs away and is believed dead by his alcoholic father.
Eight years later, an adult David has settled into a life of adventure, spending his days jumping around various continents, doing various sports, and living lavishly using money stolen from banks via his jumping abilities. After a day of jumping, he is ambushed in his home by Roland Cox. Cox tries to trap him with electrical cables, which prevent him from being able to jump. David escapes and returns home to Ann Arbor seeking Millie. He is attacked by Mark and purposely teleports him into a bank vault. He leaves him there and returns to Millie, inviting her to travel to Rome. Roland later discovers Mark in police custody and learns David's identity.