| | |
| --- | --- |
| Character sourced from: Anime | |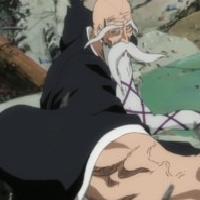 Shigekuni Yamamoto-Genryūsai
CBUB Wins: 2
CBUB Losses: 1
Win Percentage: 66.67%
Added by: Darksaiyajin345
Read more about Shigekuni Yamamoto-Genryūsai at: Wikipedia
Official Site: Viz Media
This is a list of characters featured in the manga and anime series Bleach, created by Tite Kubo. Soul Reapers are a fictional race of spirits who govern the flow of souls between the human world and the afterlife realm called the Soul Society.
The Bleach story tells of how Ichigo Kurosaki becomes substitute Soul Reaper in Karakura Town in place of Rukia Kuchiki. He assumes her duties to protect souls and put them to peaceful rest, as well as to fight against dangerous, lost souls that could not rest, called Hollows.
As the series progresses, however, Rukia is arrested by the Soul Society's Soul Reaper military for giving her powers to Ichigo, and she is prepared for execution. Ichigo and his friends go to save her and are forced to fight against many of the Soul Society's Thirteen Court Guard Squads. Eventually, the Fifth Squad Captain Sōsuke Aizen, the third Squad Captain Gin Ichimaru, and the ninth Squad Captain Kaname Tousen all defect from the Soul Society at the time of the rescue and start a plan, interrupting Ichigo's battles, to gain greater power with the Arrancar, focusing the story with Sōsuke Aizen as the main antagonist.
Bleach was first conceived from Tite Kubo's desire to draw Shinigami ("Soul Reaper" in the English adaptations) in a kimono, which formed the basis for the design of the Soul Reapers. Before deciding the use of kimono, Kubo thought of giving black suits to male Soul Reapers and any forms to female Soul Reapers, but thought that it was too generic and changed it to a kimono. Several characteristics from them, such as the kidō spells and the zanpakutō swords are also based on Japanese literature. Instead of using zanpakutō, Kubo wanted to give the Soul Reapers guns, with the exception of Rukia, who would use a scythe. Seeing that guns are not suitable for kimono, he changed them with swords. Early plans for the story did not include the hierarchical structure of the Soul Society, but did include Ichigo's Soul Reaper heritage.



Images with a green border may be set as the character's main profile image.
For images 200x200 or 300x300 pixels square.
No match records for this character.