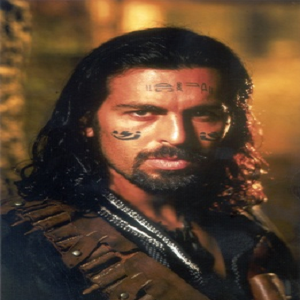 Ardeth Bay
CBUB Wins: 1
CBUB Losses: 1
Win Percentage: 50.00%
Added by: Lord_Of_Awesome
Read more about Ardeth Bay at: Wikipedia
Official Site: Universal Studios
The following is a selected list of characters who have appeared throughout the Mummy series (The Mummy, The Mummy Returns, The Mummy: Tomb of the Dragon Emperor and the spin-offs The Scorpion King and The Scorpion King 2: Rise of a Warrior). Main and minor characters are included.
Rick O'Connell (Brendan Fraser) is the central protagonist of the film. He served in the French Foreign Legion before becoming an adventurer. Evelyn and her brother Jonathan saved him from being hanged early in the movie so that he can lead them to the lost city of Hamunaptra, as he is one of the few men to ever visit the city and return alive. Rick seems to have a mercenary attitude at the beginning of the film but softens and becomes emotionally invested due to a subplot throughout the film, which is the growing romance between Rick and Evelyn. Rick provides much of the action of the film, culminating in his killing of Imhotep. He also provides some comedy through his sarcastic comments, though not as bawdily and straightforwardly as Johnathan.
Evelyn Carnahan O'Connell (Rachel Weisz in The Mummy & The Mummy Returns and Maria Bello in The Mummy: Tomb of the Dragon Emperor) is another protagonist, a clever, intelligent, but clumsy Egyptologyist in Cairo's Museum of Antiquities. She, along with Rick and her brother Jonathan, travel to the lost city of Hamunaptra, where she hopes to find a rare ancient book. When some Americans find a book (not the golden book of Amun-Ra, but in fact the Book of the Dead which gives life), Evie steals the book from the sleeping American Egyptologist and reads a page of it. This unintentionally resurrects the titular mummy, Imhotep. Imhotep wants to use her body to resurrect his long-dead lover, Anck-Su-Namun, and he takes Evie captive. Upon being rescued, she reads a page from the book of Amun-Ra, rendering Imhotep mortal. Rick then pierces Imhotep in the stomach. While he goes down into the water, he returns to mummy form, and Evie translates Imhotep's last words: "Death is only the beginning."
Evie shows little fighting skill, but much bravery such as when she attempts to shoot a Medjai with Rick's gun, and fights Anak-Su-Namun. In the first parts of the film she thinks Rick is a "no good, complete scoundrel" and she "doesn't like him one bit". However, slowly, as the film progresses he gains her trust they eventually fall in love.




Images with a green border may be set as the character's main profile image.
For images 200x200 or 300x300 pixels square.
No match records for this character.