| | |
| --- | --- |
| Character sourced from: Sci-Fi | |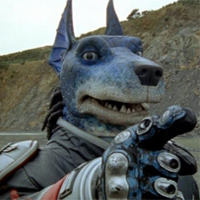 Anubis Cruger
CBUB Wins: 0
CBUB Losses: 0
Win Percentage: 0%
Added by: Venom 2009
Read more about Anubis Cruger at: Wikipedia
Official Site: Saban
Commander Anubis Cruger, affectionately called "Doggie" by his co-workers, is a fictional character from the Power Rangers universe, appearing in the television series Power Rangers S.P.D. He is a member of the Space Patrol Delta organization.
Anubis Cruger is a member of the doglike Sirian race from the planet Sirius, and was a member of the original Space Patrol Delta, training in the Academy alongside future criminal Icthior. He lead the SPD forces against the Troobian Empire's invasion, fighting and scarring Emperor Gruumm by shearing off his right horn, before General Benagg kidnapped his wife Isinia and managed to bring down Cruger from behind. The battle was lost and all the Sirians except for Cruger and Isinia were killed. After that, Anubis made a vow to never fight again and left for Earth, thinking his wife lost.
On Earth, Anubis founded the S.P.D. Earth Academy and trained the elite S.P.D. Ranger squads. He sends the A-Squad Rangers to the Helix Nebula to fight at the front line against Grumm, not realising this was a trap by Gruumm to take out Earth's front line of defense. When he hears that Gruumm is on his way to Earth and could not contact the A-Squad, he promotes the B-Squad Rangers to active status and gives Schyler "Sky" Tate, Bridge Carson, and Syndey "Syd" Drew a set of S.P.D. Morphers. They were soon rejoined by Elizabeth "Z" Delgado, and Jack Landors,
Cruger is portrayed as a good judge of character. He gives both Jack Landors and Elizabeth Delgado, two criminals, a chance at redemption by making them Rangers, and sees the potential in Boom when he drops out of the Academy.
No match records for this character.
No match records for this character.