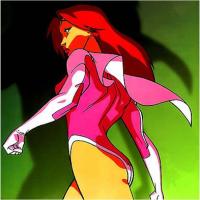 Atom Eve
CBUB Wins: 2
CBUB Losses: 0
Win Percentage: 100.00%
Added by: patrickthekid
Read more about Atom Eve at: Wikipedia
Official Site: Image Comics
Atom Eve (real name: Samantha Eve Wilkins) is a fictional character, a superhero in the who appears primarily in the comic book Invincible. She first appears was in Invincible #1 (January 2003) and was created by Robert Kirkman and Cory Walker.
Atom Eve was created by the government to be a weapon. At birth, she was switched with a stillborn, and sent home with her birth-parents so as to avoid the government's seizing of her. She was a prodigy in science and received a scholarship to a prestigious school. Her scientific ability turned out to be an early manifestation of her powers. A man approached her one day, warning Eve that her powers may be her downfall and encouraged her to never to use them again .
Prior to the first issue of Invincible, Atom Eve joins the Teen Team as an after-school superhero. She soon starts a friendship with Invincible after the two meet saving a shipment of video game consoles from a Mauler twin . Eve and Mark are thought by many to be in a romantic relationship, despite their protests that they are "just friends" . After discovering that Rex Splode, her boyfriend, is cheating on her with Dupli-Kate, she resigns from the Teen Team .
Although she does not join the new Guardians of the Globe along with her former Teen Team teammates, she continues as an active superhero for some time. She eventually decides that her talents are being wasted on superheroics and that she could do more good elsewhere. Subsequently she quits superhero work and moves to Africa to engage in aid work. She has come out of "retirement" in response to large threats, like the cosmic villain Omnipotus and a Martian invasion.