Makoto

CBUB Wins: 2
CBUB Losses: 2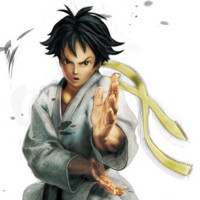 is a fictional character from the Street Fighter video game series. She is a Tosa fighter and a Rindōkan karate expert from Japan. She first appeared in Street Fighter III: 3rd Strike, and again in Super Street Fighter IV. She wears a white dougi and a yellow hachimaki around her neck, intended to demonstrate her speed and trajectory. She is voiced by Makoto Tsumura in Japanese, and by Jessica D. Stone in English. She speaks with a Tosa dialect, which was accomplished by the development team hiring a professional to supervise the sound development. In 3rd Strike, her father was the former master of the Rindōkan karate dojo. However, after his death, attendance dwindled, and with her brother pursuing a career in business, she is forced to increase the dojo's popularity. Early on, fans speculated that Makoto was Ryu's younger sister due to similar wardrobe.
Since appearing in 3rd Strike, Makoto has received generally positive reception, described as a "fan favorite" by G4TV and a "fan fantasy" by Capcom U.S. VP of Strategic Planning & Business Development Christian Svensson. A bust of Makoto was created as one of several pieces of merchandise created to celebrate the 15th anniversary of the Street Fighter series. She has been included in several lists of Street Fighter characters by quality; IGN ranked Makoto as the 23rd best character in the series and one of the five most-wanted for inclusion in Super Street Fighter IV; similarly, UGO Networks listed her as one of the top 50 Street Fighter characters. Retronauts praised her as being a "pure street fighter" in comparison to the characters in Street Fighter III and their differences from the characters in Street Fighter II.
Makoto is tomboy, wearing a white dougi and a yellow hachimaki. Makoto's alternate costume in Super Street Fighter IV was the hardest to create out of all the characters' costumes. Her alternate costume consists of a sun hat, denim overalls, and gardening gloves. Her voice was the hardest of all the characters in Super Street Fighter IV to record.
Makoto is a young female Karate master from the rural Tosa Province of Japan introduced in Street Fighter III: 3rd Strike. She later makes an appearance in Super Street Fighter IV as a playable character. Her father was the previous master of the once prosperous karate dojo, which has greatly dwindled in attendance ever since the death of Makoto's father. With her brother having chosen not to follow the path of a martial artist by focusing more on the career of a business man, Makoto is left with the sole task of reviving her school's popularity. In her ending, Makoto becomes a young martial arts prodigy after defeating Ryu and numerous other fighters, attracting countless numbers of students interested in learning the art of the Rindoukan school. in Super Street Fighter IV, Fei-Long acts as Makoto's rival.
Read more about Makoto at Wikipedia
Official Site: Capcom
Researched by: RakaiThwei