| | |
| --- | --- |
| Character sourced from: Toons | |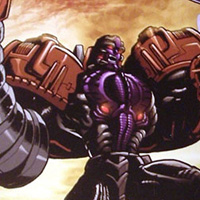 Megatron (Beast Era)
CBUB Wins: 4
CBUB Losses: 4
Win Percentage: 50.00%
Added by: Zarathustra23
Read more about Megatron (Beast Era) at: Wikipedia
Official Site: Hasbro
The Beast Wars and Beast Machines version of Megatron is the main antagonist from the aforementioned parts of the Transformers animated series, toy lines, and multiverse. In the past, a few fans have referred to him as Megatron II to distinguish him from the original character of the same name; in the Japanese Transformers: Robot Masters series, he was named Beast Megatron for this purpose.
Megatron is a cool-headed schemer - a Machiavellian plotter, and a master in psychological warfare, yet also a skilled battlefield commander. Honor is a disgusting concept to Megatron (ironic since he would later develop a form of it himself); he manipulates, lies and bribes to get his way, and is often given to fits of ego, patting himself on the back for accomplishments or making a smooth quote. He often uses his over-confidence and presence as a scare-tactic to intimidate foes and to get his subordinates in rank. Megatron always has a secret agenda which is usually convoluted and involves calculated risks, gambles, and manipulating other Transformers, and usually leads him to near, but rarely complete, victory. His ultimate goal is the conquest of Cybertron, where he was branded a criminal.
Megatron does, however, afford himself a selection of personal foibles, such as his trademark utterances of the word "ye-e-e-sss" or "No-o-o-o-ooo" in an exaggeratedly self-impressed way after certain statements, or as a stand-alone emphatic phrase, and his possession of a yellow rubber duck, which he sometimes takes with him into the cryo-regeneration jacuzzi. He also has a rather dark sense of humor. Despite being brilliant and even charming at times, deep down Megatron is completely evil to the core. He is viewed as something of a fanatical terrorist even by his fellow Predacons and is willing to tamper with the fabric of existence just to settle his grudge with the Maximals. However, Megatron does not view himself as such: he believes he is fighting for the freedom of the Predacons, whom he views as being enslaved by the Maximals and the Pax Cybertronia.
Few pieces of information exist about Megatron before the Beast Wars. The Japanese Beast Wars II toy catalogue claims that he had battled and lost to Galvatron (the villain of that series) in the past, while the 2006 BotCon comics claimed he was previously a commander in the Predacon army who had developed many of the Predacons' tactics.




















Images with a green border may be set as the character's main profile image.
For images 200x200 or 300x300 pixels square.