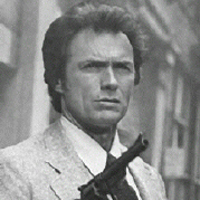 Dirty Harry
CBUB Wins: 8
CBUB Losses: 8
Win Percentage: 50.00%
Added by: agustinaldo
Read more about Dirty Harry at: Wikipedia
Official Site: Warner Bros Pictures
Harold Francis "Dirty Harry" Callahan is a fictional San Francisco Police Department inspector in the films Dirty Harry (1971), Magnum Force (1973), The Enforcer (1976), Sudden Impact (1983), and The Dead Pool (1988). Clint Eastwood plays Callahan in all five films.
From his debut in Dirty Harry, Callahan became the template for a new kind of movie cop: someone who does not hesitate to cross professional and ethical boundaries in pursuit of his own vision of justice, especially when the law is poorly served by an inept bureaucracy. The "Dirty Harry" archetype does not shy away from killing, either; all of the Dirty Harry films feature Callahan killing criminals. He justifies such conduct by saying that it "gets results" in cutting down crime. This rationale rarely impresses his superiors, who have threatened Callahan with suspension and firing many times.
Callahan's signature weapon is a Smith & Wesson Model 29 .44 Magnum revolver, which he uses in all of the films. The gun's prominence in the films instantly popularized it. The character states the use of a "Light Special", .44 Special loads, that he loads himself because it gives him "better accuracy and control in a gun this size". He also states that it's like using Wadcutter in a .357 Magnum. He loses hold of it three times during the course of the series; first in Magnum Force, second in Sudden Impact, then in The Dead Pool. Additionally, in Sudden Impact, Callahan temporarily upgraded to a .44 Automag. Contrary to popular belief, it was not an AMT firearm, but an original AMP Auto Mag built specifically for that film.
In Dirty Harry, he used a Winchester Model 70 bolt action rifle in .458 Winchester Magnum for the night gunfight with the Scorpio Killer and used a switchblade during his second encounter with Scorpio. Harry also uses a Colt Python revolver to obtain ballistics evidence in Magnum Force. Other weapons Callahan uses initially in the final climax of other films include a bomb, an M72 LAW rocket launcher and a harpoon. In one film, Harry's partner Frank DiGiorgio, refers to Harry's gun as a "pocket-cannon".



Images with a green border may be set as the character's main profile image.
For images 200x200 or 300x300 pixels square.