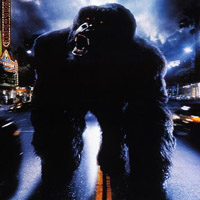 Mighty Joe Young
CBUB Wins: 1
CBUB Losses: 4
Win Percentage: 20.00%
Added by: wishtiger
Read more about Mighty Joe Young at: Wikipedia
Official Site: Disney
Mighty Joe Young is a 1998 family film starring Bill Paxton and Charlize Theron and directed by Ron Underwood. It is based on the 1949 film of the same name. In this version, the ape is much larger than in the original.
The pair go to Hollywood in Los Angeles, California (as in the original film) and win the hearts of the refuge staff. There, Jill is approached by Strasser, who has seen a news report about Joe and wants revenge because of the damage done to his hand 12 years ago. Jill fails to recognize Strasser as the poacher who killed both her mother and Joe's. Strasser tries to persuade Jill that Joe would be better off in his wildlife refuge back in Africa. Later, during a gala, Strasser's henchman uses a poacher's noisemaker to scare Joe into a frenzy. Joe trashes the gala, recognizes Strasser and tries to attack him. Joe is tranquilized and placed in a concrete bunker. Before their departure, Gregg has fallen in love with Jill and he kisses her goodbye. When Jill learns that Joe may be euthanized she decides to take Strasser's offer. She and the refuge staff smuggle Joe out in a truck on the way to the airport, Jill notices Strasser's missing fingers. It makes her realize that he is the poacher who killed her mother and Joe's. She briefly fights with Strasser and his henchman, then jumps from the truck and onto the street. Joe sees her and topples the truck over on its side and escapes. Meanwhile, Gregg has also realized the identity of the poacher and goes after Jill and Joe. He finds Jill and they locate Joe at a carnival where he is wreaking havoc. Strasser arrives and in attempting to shoot Jill starts a fire which causes the Ferris wheel to break down. Joe snatches Strasser and tosses him onto some electrical wires where he is killed by electrocution. In a poignant scene at the Santa Monica Pier, while saving a child Joe falls from the collapsing Ferris wheel. The scene is reminiscent of King Kong falling from the Empire State Building. Joe survives the fall and is shipped back to Africa to run free on his own refuge funded by donations from his fans owned by Jill and Gregg who cuddle with each other in a warm embrace watching Joe happily run free in his new home. The movie ends with a roar from Joe.
Mighty Joe Young had a better critical reception than the other big monster remake of the year, Godzilla; however it was ultimately judged a disaster by some critics as being typically 'Disney' in plot and outcome. In May 2008, it had a freshness rating of 54% from Rotten Tomatoes. The movie grossed $50,632,037 with a production budget of $90,000,000, thus a box office bomb.
The ape was created through a combination of computer animation and an actor in a suit. Dave Coulier played the ape Joe. This is one of very few recent films produced under the name of RKO Pictures.
No match records for this character.