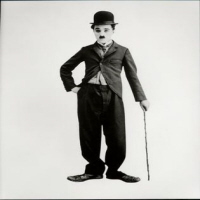 The Tramp
CBUB Wins: 3
CBUB Losses: 2
Win Percentage: 60.00%
Added by: dustinprewitt
Read more about The Tramp at: Wikipedia
Official Site: The Estate of Charlie Chaplin
The Tramp, also known as The Little Tramp (Charlot internationally) was Charlie Chaplin's most memorable on-screen character, a recognized icon of world cinema most dominant during the silent film era.
The Tramp, as portrayed by Chaplin, is a bumbling but usually good-hearted character who is most famously presented as a vagrant who endeavors to behave with the manners and dignity of a gentleman despite his actual social status. However, while he is ready to take what paying work that is available, he also uses his cunning to get what he needs to survive and escape the authority figures who will not tolerate his antics. Chaplin's films did not always portray "The Tramp" (or "The Little Fellow," as Chaplin called him) as a vagrant, however. The character was rarely referred to by any names onscreen, although he was sometimes identified as "Charlie" and rarely, as in the original silent version of The Gold Rush, "The Little funny Tramp".
The Tramp debuted during the silent film era in the Keystone comedy Kid Auto Races at Venice (released on February 7, 1914). Chaplin, with his Little Tramp character, quickly became the most popular star in Keystone director Mack Sennett's company of players. Chaplin continued to play the Tramp through dozens of short films and, later, feature-length productions (in only a handful of other productions did he play characters other than the Tramp).
The Tramp was closely identified with the silent era, and was considered an international character; when the sound era began in the late 1920s, Chaplin refused to make a talkie featuring the character. The 1931 production City Lights featured no dialogue. Chaplin officially retired the character in the film Modern Times (released February 5, 1936), which appropriately ended with the Tramp walking down an endless highway toward the horizon. The film was only a partial talkie and is often called the last silent film. The Tramp remains silent until near the end of the film when, for the first time, his voice is finally heard, albeit only as part of a French/Italian-derived gibberish song. This allowed the Tramp to finally be given a voice but not tarnish his association with the silent era.