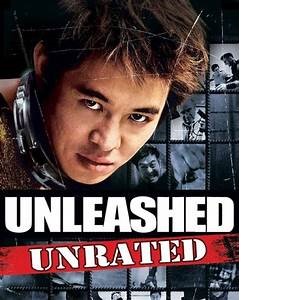 Danny The Dog
CBUB Wins: 0
CBUB Losses: 0
Win Percentage: 0%
Added by: leroypowell3
Read more about Danny The Dog at: Wikipedia
Official Site: EuropaCorp
Unleashed ( ) is a 2005 action thriller film directed by Louis Leterrier, written by Luc Besson, and co-produced by Jet Li and Besson. It stars Li, Morgan Freeman, Bob Hoskins and Kerry Condon, with action choreography by Yuen Woo-Ping. The film's setting and shooting location are Glasgow.
Bart (Bob Hoskins) is a vicious loan shark whose method of persuading men to pay him back involves Danny the Dog (Jet Li), a young man trained like a dog and left with the mentality of a child. Danny is a violently skilled fighter who stops at nothing to take down his targets, but only when a metal collar around his neck is removed by Bart. Once the collar is on, Danny is a harmless, withdrawn person, with very little knowledge of how to live as a socialised human, and he is constantly bullied by Bart, whom Danny perceives as his master. One day, Danny meets Sam (Morgan Freeman), a kind blind pianist, at the antique warehouse while dealing with Bart's clients.
After the collar trick with Danny starts to fail due to its inherent limitations, Bart realizes he can end his loan shark career by entering Danny as a fighter in underground fighting deathmatches. If Danny wins, Bart receives a hefty prize money. However, after the first fight where Danny instantly kills the current champion in seconds, Bart and his men are attacked and left for dead by some men because of the orders of one of the men that previously owed money to Bart. A severely injured Danny returns to the antique warehouse for shelter, where he is found by Sam. Danny is unconscious for two days and wakes up at the home of Sam and his stepdaughter, Victoria (Kerry Condon). Danny begins to open up to them, starting a new life with the benevolent family. The two teach Danny how to eat, read, speak, cook, go grocery shopping, and how to play the piano. Danny socializes with Victoria and Sam by hanging out with them in public areas and taking family photos. He also drastically changes with new clothes, hairstyle, and fresh lifestyle, and finally learns to live without his collar after Victoria removes it. He is drawn closer to music while spending time with Victoria, and develops curiosity about who his mother was after Victoria teaches him what it means to have a family.
Weeks later Sam informs Danny about moving back to New York, where he and Victoria are originally from. He invites Danny, telling him they think of him as family, and Danny happily accepts. However, Danny runs into Bart's right-hand man Lefty in the streets and is forced back to Bart after Lefty threatens to hurt Sam and Victoria. Bart, who is recovering from the accident, drags Danny back to the underground arena, where a death-match is set between Danny and four ruthless martial artists. Despite Danny's refusal to fight, Bart shoves him into the pit, where he is attacked by the fighters while trying to defend himself. He eventually retaliates by beating the four fighters, but refuses to kill them, so Bart kills the first fighter at gunpoint, drags Danny back home, and shuts him back in his cage. That night, Danny sneaks through his door and goes through photographs of Bart's favorite prostitutes, finally finding one snapshot of who appears to be Danny's own mother. He interrogates Bart, who tells him that she was simply a prostitute who is long gone. He angrily promises to make Danny repay him for the money he had lost earlier that evening.
No match records for this character.
No match records for this character.