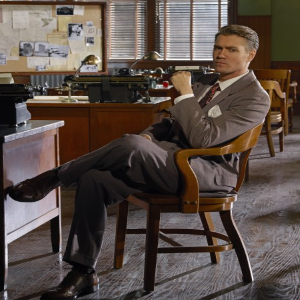 Jack Thompson (Marvel)
CBUB Wins: 0
CBUB Losses: 0
Win Percentage: 0%
Added by: broadwaybeyonder
Read more about Jack Thompson (Marvel) at: Wikipedia
Official Site: Marvel
Agent Carter is an American television series created for ABC by Christopher Markus & Stephen McFeely, inspired by the 2011 film Captain America: The First Avenger, and the 2013 Marvel One-Shot short film of the same name. It is set in the Marvel Cinematic Universe (MCU), sharing continuity with the films and other television series of the franchise. The first season, consisting of eight episodes, originally aired from January 6 to February 24, 2015, while the second season, consisting of ten episodes, originally aired from January 19 to March 1, 2016. Agent Carter was canceled by ABC on May 12, 2016.
The series features the Marvel Comics character Peggy Carter, with Hayley Atwell reprising her role from the film series and One-Shot, as she must balance life as a secret agent with that of a single woman in 1940s America. Also starring is James D'Arcy as Edwin Jarvis, butler to Howard Stark who joins Carter for her missions, developing a strong platonic relationship with her. The pair are joined by series regulars Chad Michael Murray as Jack Thompson and Enver Gjokaj as Daniel Sousa, as well as Shea Whigham for the first season. Whigham signed on to the series knowing that his character, Roger Dooley, would be killed off during the first season. Dominic Cooper portrays Stark, reprising his role from the films and One-Shot in a recurring capacity for the series. Agent Carter also introduces the origins of several characters and storylines from MCU films: Bridget Regan recurs as Dottie Underwood, an early product of the Black Widow program; and Ralph Brown recurs as Johann Fennhoff, the pioneer of Hydra's mind control techniques.
In addition to original characters, the series' cast also includes further characters based on various Marvel Comics properties, as well as more characters crossing over from the MCU films. The following list includes Agent Carter s main cast, as determined by its producers, as well as all guest stars deemed to have had recurring roles throughout the series, and a supplementary list of other noteworthy guests.
Margaret Elizabeth "Peggy" Carter (portrayed by Hayley Atwell) is an officer with the Strategic Scientific Reserve (SSR) who worked with Captain America during World War II, falling in love with him before he seemingly sacrificed himself to stop the Nazi-division Hydra. Following the end of the war, Carter is working in a secretarial role despite her status as an agent. Approached by Howard Stark, whom she had also worked with during the war, to help clear his name after being framed for selling weapons to the USSR, Carter agrees to go behind the backs of her superiors. Her treason is eventually discovered by Agent Daniel Sousa, but she is let off when she helps stop the Russians. She goes on to earn the respect of her coworkers, instigate the defeat of Whitney Frost, and start a relationship with Sousa.
No match records for this character.
No match records for this character.