| | |
| --- | --- |
| Character sourced from: Horror | |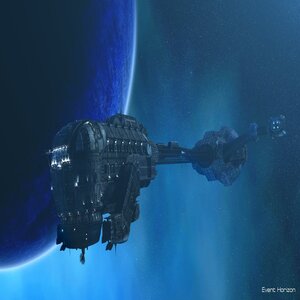 The Event Horizon
CBUB Wins: 0
CBUB Losses: 1
Win Percentage: 0%
Added by: Mercenaryblade
Read more about The Event Horizon at: Wikipedia
Official Site: Paramount
Event Horizon is a 1997 science fiction horror film directed by Paul W. S. Anderson and written by Philip Eisner. It stars Laurence Fishburne, Sam Neill, Kathleen Quinlan and Joely Richardson. Set in 2047, it follows a crew of astronauts sent on a rescue mission after a missing spaceship, the Event Horizon, spontaneously appears in orbit around Neptune. Searching the ship for signs of life, the rescue crew learns that the Event Horizon was a test bed for an experimental engine that opened a rift in the space–time continuum and left our universe entirely, allowing a malevolent entity to possess the ship.
The film had a troubled production history, with filming and editing rushed by Paramount when it became clear that Titanic would not meet its projected release date. The original 130-minute cut of the film was heavily edited by demand of the studio, to the consternation of Anderson.
Upon release, the film was a commercial and critical failure, grossing $42 million on a $60 million production budget. Even so, it began to sell well on home video; its initial DVD release sold so well that Paramount contacted Anderson shortly after its release to begin working on a restoration of the deleted footage. However, it turned out that the footage had either been lost or destroyed. In the years since, the film has slowly built a cult following and is often referenced in other works of popular culture.
In 2047, a distress signal is received from the Event Horizon, a starship that disappeared during its maiden voyage to Proxima Centauri seven years previously that has mysteriously reappeared in a decaying orbit around Neptune. The rescue vessel Lewis and Clark is dispatched. Its crew – Capt. Miller, second-in-command Lt. Starck, pilot Smith, medical technician Peters, engineer Ensign Justin, doctor D.J. and rescue technician Cooper – is joined by Dr. William Weir, who designed the Event Horizon. He briefs the crew on the ship's experimental gravity drive, which generates an artificial black hole and uses it to bridge two points in spacetime, reducing travel time over astronomical distances. The distress signal seems to consist of a series of screams and howls but D.J. believes he can discern the Latin phrase ("Save me") being spoken.
No match records for this character.