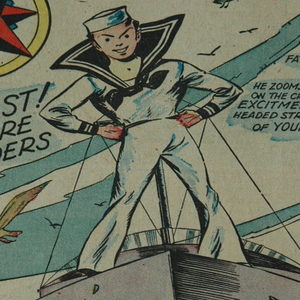 Subbie
CBUB Wins: 0
CBUB Losses: 0
Win Percentage: 0%
Added by: Z451
Read more about Subbie at: Wikipedia
Official Site: Marvel Comics
Sabreclaw is a character in the MC2 universe who first appeared in J2 #8 (May 1999). He is the half-brother of Wild Thing and son of Wolverine.
The character has claws similar to Sabretooth's claws. He has a healing factor, enhanced physical capabilities, and temper similar to Wolverine's. His healing factor allows him to rapidly regenerate damaged or destroyed areas of his cellular structure and affords him virtual immunity to poisons and most drugs, as well as enhanced resistance to diseases. He has superhuman strength and naturally sharp fangs and claws, and has reinforced his claws with adamantium sheaths.
Gwendolyne "Gwenny" Lou Sabuki was the second Golden Girl introduced by Marvel, making her first appearance in 1978, but her World War II-era character predates the post-war, Betsy Ross, Golden Girl. Created by writer Roy Thomas and penciller Frank Robbins in the retcon series The Invaders #26 (March 1978), she had appeared, sans power, as Gwenny Lou, gaining her powers in the following issue, #27 (April 1978). She went on to appear as Golden Girl in #28 (May 1978) and #38 (March 1979). A flashback story featuring the Kid Commandos is in All-New Invaders Issues 6–7.
During World War II, teenaged Gwenny Lou Sabuki, the daughter of Japanese-American scientist Dr. Sam Sabuki, was present at a stateside battle in which sidekicks Bucky (real name James Buchanan Barnes) and Toro (Thomas Raymond) of the superhero team the Invaders fought the supervillain Agent Axis. There one of Dr. Sabuki's inventions accidentally gave Gwenny Lou and her friend David "Davey" Mitchell superhuman powers. Gwenny Lou gained the power to generate light and energy and project golden force beams from her hands, while Mitchell gained the ability to spin at superhuman speeds. She became Golden Girl and he the Human Top. The four youthful heroes defeated Agent Axis and later formed the Kid Commandos, who were allied with the adult Invaders.
No match records for this character.
No match records for this character.