| | |
| --- | --- |
| Character sourced from: Anime | |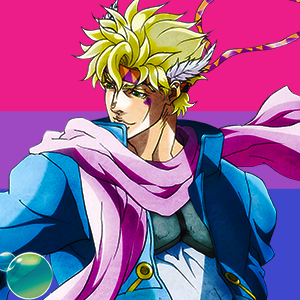 Caesar Zeppeli
CBUB Wins: 0
CBUB Losses: 0
Win Percentage: 0%
Added by: SSJRuss
Read more about Caesar Zeppeli at: Wikipedia
Official Site: Viz Media
The JoJo's Bizarre Adventure manga series features a large cast of characters created by Hirohiko Araki. Spanning several generations, the series is split into eight parts, each following a different descendant of the Joestar family. Parts 7 and 8 take place in a separate continuity from the previous six. Many of the characters have supernatural abilities which give them a variety of unique traits.
When first beginning the series, Dio Brando is the character that Araki looked forward to drawing the most. Inspired by FBI profiling of serial killers and how they control their victims through psychological manipulation, he gave Dio a similar trait, using his charisma to ensure his followers do his bidding. Araki revealed that he had not thought up a weakness for the character and that it was difficult to come up with a way for Dio to be defeated. As the first Joestar, Araki created Jonathan to be "a symbol of purity and dignity", which he admitted might have resulted in him being "boring." Jonathan's physical transformation during the seven year skip was done with his upcoming battle with Dio in mind and inspired by muscular film actors popular at the time, such as Arnold Schwarzenegger and Sylvester Stallone. A fan of karate manga as a child, Araki also wanted JoJo to exude an aura of strength like in Karate Baka Ichidai, leading to the character learning the supernatural Hamon technique. As Jonathan's teacher, Araki modeled Will A. Zeppeli after martial arts masters in Jackie Chan movies and Mr. Miyagi in The Karate Kid, whose "silly" appearances hide their strength. Araki dressed him as a magician and modeled his mustache after those of Salvador Dalí and the character Iyami from Osomatsu-kun. The Zeppeli name is derived from the English rock band Led Zeppelin.
Because it was "unprecedented" to kill off the main character in a Weekly Shōnen Jump manga, and wanting to shift from physical battles to more "cerebral" fights, Araki made Part 2's protagonist look very similar to Jonathan but with a more adventurous and confrontational personality. The author referred to Joseph as "a muscle-bound B.T.", the main character from his earlier series Cool Shock B.T.; a shōnen manga hero who bends the rules as he fights. Having not been able to show a friendly rivalry between Jonathan and Dio, Araki introduced Caesar Zeppeli to present a more positive friendly rivalry between him and Joseph. Wanting each user to have a different type of Hamon with a unique design, he gave Caesar the seemingly fleeting-bubbles as a "representation of his fate and the burden he is carrying." He enjoys giving characters weapons with faults and having them make up for it with strategy. The author stated that these "spheres" were inherited by both Gyro Zeppeli in Steel Ball Run and Josuke Higashikata in JoJolion. Araki created the warrior-type Lisa Lisa, based on a neighborhood girl he knew as a child, to stand out compared to previous shōnen manga female characters who were typically cute and designed to be "a man's ideal woman". He stated that at the time it was hard to get Japanese readers to remember a foreign name, so he chose something with repetition. Having to surpass Dio, the Pillar Men's designs were based on Roman statues, Egyptian sphinx and Japanese nio statues to give them godlike features. Araki designed Kars with a turban to show his superior intelligence and that he is their king, his Brilliant Bone Blade ability harkening to Araki's earlier series Baoh.
Although a Japanese protagonist, Araki modeled Jotaro after American actor Clint Eastwood, including his poses and catchphrases. Although the author said the character might seem "rough" compared to other Jump protagonists, Jotaro fits his own image of a hero perfectly as a "loner" who does not do the right thing for attention. Araki said the character wearing his school uniform in the desert has its roots in Mitsuteru Yokoyama's Babel II, and that if he were to draw the part over again, he would base the Stands on Tetsujin 28-go. Araki said he had a lot of readers asking him to bring older characters back. Although he is not a fan of bringing them back simply for nostalgia, he did not hesitate having Joseph return to save his daughter because it is completely true to the character. The author thought of having Joseph drop out partway through due to his age, but ended up "playing it by ear" as serialization continued. He gave him the role of "navigator", introducing the readers to the Joestar family, Dio, Hamon and Stands, and his own Stand being a support ability rather than offensive. Araki said he gave Avdol an "ethnic" design to have some sort of connection to Egypt and that at the time of serialization, he and most of the readers had a strong interest in the "birthplaces of civilization," making the design a "product of the times."
No match records for this character.
No match records for this character.