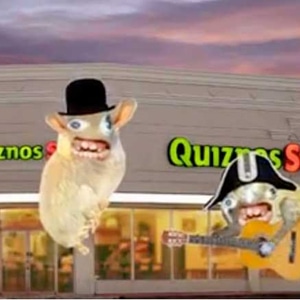 The Quiznos Rats
CBUB Wins: 0
CBUB Losses: 0
Win Percentage: 0%
Added by: ViceCityMobster86
Read more about The Quiznos Rats at: Wikipedia
Official Site: Quiznos
QIP Holder, LLC, doing business as Quiznos, is an American franchised fast-food restaurant brand based in Denver, Colorado, that specializes in offering toasted submarine sandwiches. It was founded in 1981 by Jimmy Lambatos and sold to Rick and Richard Schaden ten years later, before growing to nearly 5,000 restaurants afterwards. , Quiznos was the second-largest submarine sandwich shop chain in North America, behind Subway. A 2016 survey indicated that Quiznos was the ninth-largest submarine sandwich shop chain based on sales. The publications Restaurant Business and Mashed.com reported in mid-2018 that Quiznos had only 400 locations remaining by 2017 after a high of 4,700 locations in 2007 just a decade earlier, while, Money reported in May 2018 that Quiznos had 1,500 locations across the U.S.
The first Quiznos restaurant was opened in Denver, Colorado, by founder Jimmy Lambatos. At the time, Lambatos was an experienced chef, having previously worked as an executive chef for the Colorado Mine Co. Steakhouse, and having founded the Italian restaurant Footers in 1978. He founded Quiznos with partner Todd Disner in the spring of 1981. The first location was at the corner of 13th and Grant Streets in the Capitol Hill neighborhood of the city. According to Kevin Jenkins, "It was there that recipes for Quiznos special baguette-style bread, special dressings and unique recipes were created."
According to Patrick Sweeney, "The sandwich shop earned a following for its toasted subs that Lambatos said were inspired by the oven-baked sandwiches he enjoyed while growing up in New York." Lambatos said of his decision to toast the submarine sandwiches at the first Quiznos that, "it's a signature type of thing. Heating anything brings out the flavors in food products." The restaurant menu featured toasted submarine sandwiches, as well as salads, soups, and desserts.
After two years, the restaurant started offering franchises to facilitate expansion offering its first franchises in 1983. The franchises were offered under the name Quiznos American, Inc. By 1987, 12 Quiznos restaurant locations were operating in the United States. That year, Rick Schaden, at the age of 23, and his father, aviation attorney Richard Schaden, opened their first Quiznos franchise in a Boulder, Colorado, shopping center. They opened three additional restaurants before purchasing the 18-restaurant chain from the founders in January 1991 and renamed it the Quiznos Franchise Corp. Rick Schaden became the president, and then CEO, of Quiznos after the purchase. Jenkins wrote that Schaden, "began building a professional infrastructure to support franchise owners that included volume purchasing, standardized training, and operations procedures, as well as marketing support." Quiznos was taken public in February 1994, with an initial public offering of one million shares of stock at $5 per share, resulting in a $4.4 million yield. By the end of 1995, Quiznos had 103 different locations.
No match records for this character.
No match records for this character.