| | |
| --- | --- |
| Character sourced from: Toons | |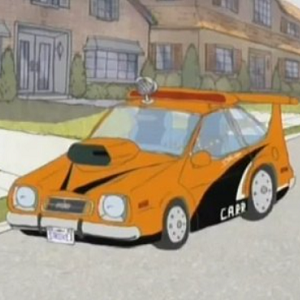 C.A.R.R. (Stroker & Hoop)
CBUB Wins: 0
CBUB Losses: 0
Win Percentage: 0%
Added by: Venom 2009
Read more about C.A.R.R. (Stroker & Hoop) at: Wikipedia
Official Site: Warner Bros.
Stroker & Hoop is an American adult animated television series created by Casper Kelly and Jeffrey G. Olsen for Cartoon Network's late night programming block, Adult Swim. The series is a parody of buddy cop film and television series such as Starsky & Hutch, and stars the voices of Jon Glaser as Stroker and Timothy "Speed" Levitch as Hoop. It contains the talking car element of the 1982 series Knight Rider, in "C.A.R.R.", voiced by Paul Christie. The names of the lead characters may be based on two Burt Reynolds characters, from Stroker Ace and Hooper.
Stroker and Hoop premiered on August 1, 2004, and ended on December 25, 2005, with 13 episodes.
Stroker and Hoop are a pair of private investigators from Los Angeles, who act and dress as if it is still the 1970s. In spite of each man's high opinion of himself, they're both completely inept losers: Stroker fancies himself a suave ladies man, but is generally unpopular and perceived by virtually every woman he meets as a repulsive chauvinist; and Hoop considers himself a crime-solving ace and master of disguise, when in fact he's a gullible nerd and all of his disguises are failures. Their only "advantage" over their competition is C.A.R.R., a talking AMC Pacer with its own neurotic personality. Because of their abysmal track record and less-than-stellar capabilities, the two men eke out livings solving crimes for people who can't afford to hire more competent detectives. Invariably, their attempts to solve a crime result in bloodshed, violence, and thousands of dollars worth of property damage.
A recurring plot point of the series was to take myths and fantasies (such as mind control and Santa Claus) and make them real in an otherwise ordinary setting. Stroker often doubts the existence of these occurrences.
No match records for this character.
No match records for this character.