| | |
| --- | --- |
| Character sourced from: Anime | |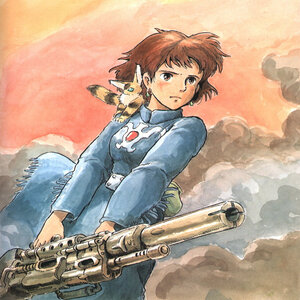 Nausicaä
CBUB Wins: 0
CBUB Losses: 0
Win Percentage: 0%
Added by: Mercenaryblade
Read more about Nausicaä at: Wikipedia
Official Site: Studio Ghibli
is a 1984 Japanese anime film written and directed by Hayao Miyazaki, based on his 1982 manga. It was animated by Topcraft for Tokuma Shoten and Hakuhodo, and distributed by the Toei Company. Joe Hisaishi, in his first collaboration with Miyazaki, composed the score. The film stars the voices of Sumi Shimamoto, Goro Naya, Yoji Matsuda, Yoshiko Sakakibara and Iemasa Kayumi. Taking place in a future post-apocalyptic world, the film tells the story of Nausicaä (Shimamoto), the young princess of the Valley of the Wind. She becomes embroiled in a struggle with Tolmekia, a kingdom that tries to use an ancient weapon to eradicate a jungle full of mutant giant insects.
Nausicaä of the Valley of the Wind was released in Japan on 11 March 1984. A heavily-edited adaptation of the film created by Manson International, Warriors of the Wind, was released in the United States and other markets throughout the mid-to-late 1980s. The Manson cut was derided by Miyazaki and eventually replaced in circulation by an uncut, redubbed version produced by Walt Disney Pictures in 2005. Though it was made before Studio Ghibli was founded, it is often considered a Ghibli work, and was released as part of the Studio Ghibli Collection DVD and Blu-ray range. The film received critical acclaim, praising the story, themes, characters and animation. It is frequently ranked as one of the greatest animated films ever made.
One thousand years have passed since the Seven Days of Fire, an apocalyptic war that destroyed civilization and created the vast Toxic Jungle, a poisonous forest swarming with giant mutant insects. In the kingdom of the Valley of the Wind, a prophecy predicts a saviour "clothed in blue robe, descending onto a golden field". Nausicaä, the princess of the Valley of the Wind, explores the jungle and communicates with its creatures, including the gigantic, trilobite-like armored Ohm. She hopes to understand the jungle and find a way for it and humans to co-exist.
One day at dawn, a massive cargo aircraft from the kingdom of Tolmekia crashes in the Valley despite Nausicaä's attempt to save it. Its sole survivor, Princess Lastelle of Pejite, pleads with Nausicaä to destroy the cargo and dies. The cargo is an embryo of a Giant Warrior, one of the lethal, gargantuan humanoid bioweapons that caused the Seven Days of Fire. Tolmekia, a military state, seized the embryo and Lastelle from Pejite, but their plane was attacked by insects and crashed. One of the insects emerges wounded from the wreckage and poises to attack, but Nausicaä uses a bullroarer to calm it and guides it away from the village.
No match records for this character.
No match records for this character.