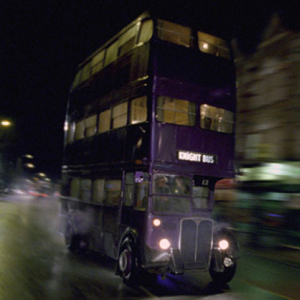 Knight Bus (Harry Potter)
CBUB Wins: 0
CBUB Losses: 0
Win Percentage: 0%
Added by: Venom 2009
Read more about Knight Bus (Harry Potter) at: Wikipedia
Official Site: J. K. Rowling
The following is a list of magical objects used in the Harry Potter series.
In Harry Potter and the Order of the Phoenix, Hermione Granger creates fake, enchanted Galleons (Wizard money) that are used for communication between members of Dumbledore's Army (the DA). Like real Galleons, the coins have numerals around the edge. On normal Galleons these serial numbers signify the goblin who cast the coin; on the enchanted Galleons, the numbers represent the time and date of the next D.A. meeting, and automatically change to match whatever numbers Harry Potter sets on his coin. Due to the coins being infused with a Protean Charm, once Harry Potter alters his, every coin changes to suit. The coins grow hot when the numbers change to alert the members to look at their coins.
In Harry Potter and the Half-Blood Prince, Draco Malfoy uses a pair of enchanted coins to bypass the communication limits imposed on Hogwarts, thus managing to keep in contact with Madam Rosmerta, whom he had placed under the Imperius Curse. Draco reveals he got the idea from Hermione's DA (Dumbledore's army) coins, which were themselves inspired by Lord Voldemort's use of the Dark Mark to communicate with his Death Eater.
In Harry Potter and the Deathly Hallows, Neville Longbottom uses the DA's (Dumbledore's army) coins to alert people such as Luna Lovegood and Ginny Weasley that Harry, Ron and Hermione have returned to Hogwarts. They then arrive at the Room of Requirement to fight in the Battle of Hogwarts on 2 May 1998.
No match records for this character.
No match records for this character.