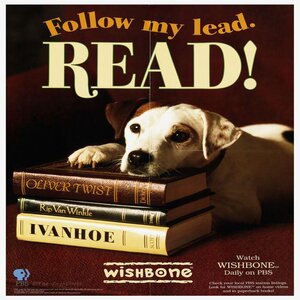 Wishbone
CBUB Wins: 0
CBUB Losses: 0
Win Percentage: 0%
Added by: Mercenaryblade
Read more about Wishbone at: Wikipedia
Official Site: PBS
Wishbone is an American half-hour live-action children's television show produced from 1995 to 1997. It was originally broadcast on PBS and later rebroadcast on PBS Kids. The show's title character is a Jack Russell Terrier. Wishbone lives with his owner Joe Talbot in the fictional town of Oakdale, Texas. He daydreams about being the lead character of stories from classic literature. He was known as "the little dog with a big imagination". Only the viewers and the characters in his daydreams can hear Wishbone speak. The characters from his daydreams see Wishbone as whichever famous character he is currently portraying and not as a dog. The show won four Daytime Emmys, a Peabody Award, and honors from the Television Critics Association. Wishbone's exterior shots were filmed on the backlot of Lyrick Studios's teen division Big Feats! Entertainment in Allen, Texas, and its interior shots were filmed on a sound stage in a warehouse in Plano, Texas. Additional scenes were filmed in Grapevine, Texas.
This show garnered particular praise for refusing to bowdlerize many of the sadder or more unpleasant aspects of the source works, which usually enjoyed a fairly faithful retelling in the fantasy sequences.
The show also inspired several book series. Altogether, more than fifty books have featured Wishbone, which continued to be published even after the TV series ended production. Reruns of the show continued to air on some PBS affiliates until September 2009. In 2006, when a PBS Kids Go! digital channel was announced, PBS planned to air Wishbone on the channel. However, when the digital channel was canceled, Wishbone returned in reruns on the PBS national program service. Wishbone clips came to the PBS Kids Go! website. The return to PBS lasted a short time, although some PBS affiliates continued to air Wishbone until their license to do so ran out. The show continued to air in reruns nationally until August 31, 2001. The show was replaced on the PBS Kids schedule on September 3, 2001 by Sagwa, the Chinese Siamese Cat. In 1998 the TV movie Wishbone's Dog Days of the West was aired.
The series aired on PBS Kids Sprout as part of its "Let's Go Show" block from 2007 to 2009. However, due to Sprout rebranding the next month, it was pulled from the schedule before it rebranded the channel.
No match records for this character.
No match records for this character.