| | |
| --- | --- |
| Character sourced from: Anime | |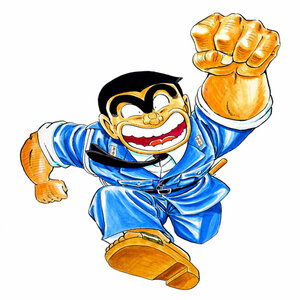 Kankichi Ryotsu
CBUB Wins: 0
CBUB Losses: 0
Win Percentage: 0%
Added by: Z451
Read more about Kankichi Ryotsu at: Wikipedia
Official Site: Weekly Shōnen Jump
The Kochira Katsushika-ku Kameari Kōen-mae Hashutsujo (KochiKame) manga series features an extensive cast of characters created by Osamu Akimoto.
: Born March 3. The Head Patrol Officer of Katsushika, stationed at the police box in front of Kameari Park. Hails from Asakusa, Taitō, Tokyo. "Ryo-san" is a 36-year-old police officer with the personality of a 12-year-old. His laziness at work is matched only by his zeal and cleverness in hatching money-making schemes, the fruits of which are invariably squandered on toys, gadgets, and cheap entertainment. He is the stereotypical street-smart "shitamachi" type: sporting a crew cut, stomping about in ratty sandals (even in uniform), and being narrow-minded toward the outside world, as he makes his rounds on a creaky old bicycle. At the same time, he is a super-otaku, up on all the latest fads in popular culture and consumer technology. While most of his interests are juvenile (such as videogames and collectibles), he also indulges in more typically salaryman-type pastimes such as drinking, pachinko, and gambling (especially horse-racing). Despite his undisciplined lifestyle, he possesses superhuman strength and stamina, which he is forced to depend on at times. Ryotsu is a bachelor and seems relatively uninterested in women, yet occasionally attracts the attention of naïve young female acquaintances, though never with any eventual success. He travels to Hashutsujo by his bicycle named Chidori. He has a younger brother named Kinjiro who wears glasses and runs a successful law firm.
: Born December 24. A young, handsome patrol cop who serves as Ryo's comic foil. While holding down a day job in the police box in front of Kameari Park, Nakagawa is the son of Nakagawa Zaibatsu and often has to zip off to board meetings in his exotic sports cars and private helicopters. He is quite handsome, an expert driver and marksman, and popular with all the lady cops. However, as a rich heir, he is quite naive to the ways of the world. His policeman's uniform is an ¥300,000 yellow pinstripe suit made by Pierre Cardin. Though constantly surrounded by beautiful women throughout his duties, Nakagawa appears indifferent and his tendencies are somewhat ambiguous. He hates natto, and his favorite car is his Ferrari. He has a younger sister who is also as busy as his parents.
: Born July 7. A female counterpart to Nakagawa, Reiko's wealth is inherited from European nobility and she juggles her commitments to the police job with those of high society. The daughter of the Kobe-based Akimoto Trading Zaibatsu, Reiko is half French, was raised in France, and is multilingual. With her flowing blonde hair and stunningly cute police uniform she looks like an angel. She is fast for a woman of such built. Reiko is often courted by rich and famous men but has never found the right man. She works in the transportation department and drives a Porsche. She has one younger sister named Yu Akimoto.
No match records for this character.
No match records for this character.