| | |
| --- | --- |
| Character sourced from: Toons | |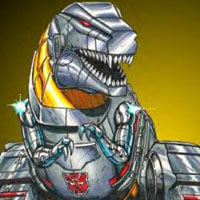 Grimlock
CBUB Wins: 5
CBUB Losses: 3
Win Percentage: 62.50%
Added by: Thunder Phoenix
Read more about Grimlock at: Wikipedia
Official Site: Hasbro
Grimlock is the name of several fictional characters in the Transformers universes. He is usually portrayed a tough leader who turns into mechanical dinosaur. In 2007 USA today polled people as to which Transformer they want to appear in the next Transformers film. Grimlock came in tied for second with Devastator.
Grimlock is the most fearsome and powerful member of the Dinobots. Grimlock can be cold, merciless and contemptuous of those he considers beneath him, such as human beings, and at times, even Autobot leader Optimus Prime himself, who Grimlock would gladly supplant as Autobot leader if he were able to, giving him a superiority complex as indicated by his Generation 1 tech specs. Nevertheless, he is a valiant warrior whose actions command respect from all who are witness to them, both friend and foe. One of his most distinguishing features is his famous speech impediment, resembling cliched caveman speech, which leads him to shorten sentences and refer to himself constantly as "Me Grimlock", never "I" (i.e. "Me Grimlock no bozo! Me KING!") - the reason for this varies from depiction to depiction, with some making it the result of true mental limitations, and others vocal processor damage or a ruse Grimlock perpetrates to allow others to think of him as less intelligent than he actually is.
Grimlock is among the strongest of the Transformers, possibly an equal to, or even superior of, Optimus Prime and Megatron in certain continuities. In Tyrannosaurus rex mode, his powerful jaws can snap virtually anything that comes between them - from steel cables to a Decepticon limb. He also can shoot an energy ray from his mouth. In robot mode, Grimlock wields an energo-sword, whose blade is sheathed in crackling energon and can slice a concrete wall in one slash. He also uses a double-barreled, self-propelled rocket launcher. He is almost invulnerable in his Tyrannosaurus Rex mode as shown with his battle with Megatron due to Megatron's primary weapon, his arm-mounted fusion cannon having little or no effect on Grimlock.
Since Marvel Comics' Transformers series were primarily written by Bob Budiansky in its early years, the writer was able to present his origin for the Dinobots as he had originally conceived it. Hence, when the Ark crashed on Earth four million years ago, it was followed down to the planet by the Decepticon Shockwave, who touched down in the prehistoric region of Antarctica known as the Savage Land. The Ark's computer detected his presence on the planet, and its scans of the Savage Land led it to believe that dinosaurs were the dominant life form. Thus, it reconstructed Grimlock and his troops into dinosaur forms, in order to battle Shockwave. Unfortunately, he slyly outmaneuvered them and managed to pick them off at a distance with his superior fire power; knocking them into a tar pit one by one. With their final strike the battle ended in a stalemate as the Dinobots made him fall in the pit along with them, buried under a rock slide for several million years.









Images with a green border may be set as the character's main profile image.
For images 200x200 or 300x300 pixels square.