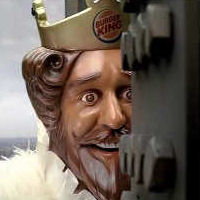 The Burger King
CBUB Wins: 11
CBUB Losses: 21
Win Percentage: 34.38%
Added by: Kureji
Read more about The Burger King at: Wikipedia
Official Site: Burger King
The Burger King is a character created as its advertising mascot for the international fast-food restaurant franchise Burger King who became famous in numerous television commercials, including the Burger King Kingdom.
The first iteration of the King was part of Burger King sign at the first store in Miami, Florida in 1955. Later signs had the King shown sitting on a "burger throne" as well as atop the BK sign while holding a beverage.
In the late 1960s/early 1970s Burger King started using a small, animated version of the King in its children's advertising where the animated Burger King was voiced by Allen Swift. The King was featured in a series of advertisements in which he would visit a Burger King outlet for an interview with a television reporter or see a former court wizard who now worked for the chain. In all ads the King would present children with small gifts or buy them some Burger King food. Many of these commercials featured the king character reciting the restaurant's slogan, "Burger King, where kids are king".
By the late 70s, the original animated King was soon replaced by the "Marvelous Magical Burger King" (portrayed by the late Dick Gjonola), a red-bearded, victorean-era king who ruled the Burger King Kingdom and performed magic tricks that were mostly sleight-of-hand, but sometimes relied on camera tricks or involved his "Magic Ring" which could summon copious amounts of food. The King was accompanied with usually two or more children and notable characters such as "Sir Shake-a-Lot", the "Burger Thing" (a WC Fields-esque burger portrait), and "The Duke of Doubt" who often doubted the King's abilities, and the "Wizard of Fries" which resembled R2-D2 of Star Wars. This campaign paralleled McDonald's McDonaldland children's commercials, which featured "Ronald McDonald", "The Hamburglar", and "Mayor McCheese", along with other characters and mascots.