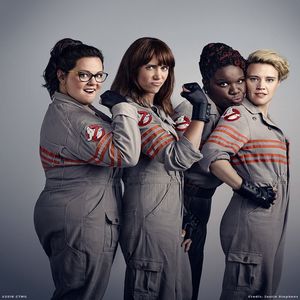 Ghostbusters (Answer The Call Team)
CBUB Wins: 0
CBUB Losses: 0
Win Percentage: 0%
Added by: Movie-Brat
Read more about Ghostbusters (Answer The Call Team) at: Wikipedia
Official Site: Sony Pictures
Ghostbusters (later marketed as Ghostbusters: Answer the Call ) is a 2016 supernatural comedy film directed by Paul Feig and written by Feig and Katie Dippold. It stars Melissa McCarthy, Kristen Wiig, Kate McKinnon, Leslie Jones, and Chris Hemsworth. It is a reboot of the 1984 film of the same name and the third film, overall, in the Ghostbusters franchise. The story focuses on four women and their assistant who begin a ghost-catching business in New York City.
A third Ghostbusters film had been in various stages of development following the release of Ghostbusters II in 1989. As a result of original cast member Bill Murray's refusal to commit to the project and the death of fellow cast member Harold Ramis in 2014, Sony decided to instead reboot the series. Many of the original film's cast make cameo appearance in new roles. The announcement of the female-led cast in 2015 drew a polarized response from the public and internet backlash, leading to the film's IMDb page and associated YouTube videos receiving low ratings prior to the film's release.
Distributed by Columbia Pictures, the film premiered at the TCL Chinese Theatre in Los Angeles on July 9, 2016, and was released in the United States on July 15, 2016, in IMAX, 4DX, 3D, Real D 3D and IMAX 3D. The film grossed $229 million worldwide, but due to its combined production and marketing budget of over $350 million, the film ended up being a box office bomb, with losses of up to $125 million for the studio. Consequently, the studio abandoned plans for a sequel, eventually opting to continue the original Ghostbusters series instead.
Physicists Abby Yates and Erin Gilbert are authors of a research book which posits the existence of paranormal phenomena, such as ghosts. While Abby continued to study the paranormal at a technical college with eccentric engineer Jillian Holtzmann, Erin, now a professor at Columbia University, disowned the work, fearing it might jeopardize her tenure. When Abby republishes the book, Erin convinces her to agree to remove the book from publication in exchange for helping Abby and Jillian in a paranormal investigation. They witness a malevolent ghost, restoring Erin's belief in the paranormal, but video footage of the investigation is posted online, and Erin is fired by the university. She joins Abby and Jillian to set up new offices above a Chinese restaurant, calling themselves "Conductors of the Metaphysical Examination". They build equipment to study and capture ghosts, and hire the dimwitted but handsome Kevin Beckman as a receptionist.
No match records for this character.
No match records for this character.