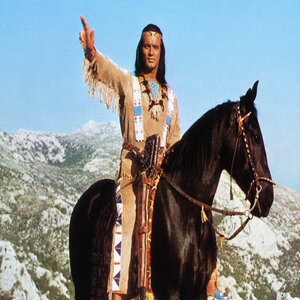 Winnetou
CBUB Wins: 0
CBUB Losses: 0
Win Percentage: 0%
Added by: Z451
Read more about Winnetou at: Wikipedia
Official Site: Public Domain
Winnetou is a fictional Native American hero of several novels written in German by Karl May (1842–1912), one of the best-selling German writers of all time with about 200 million copies worldwide, including the Winnetou-trilogy. The character made his debut in the novel Old Firehand (1875).
According to Karl May's story, first-person narrator Old Shatterhand encounters the Apache Winnetou, and after initial dramatic events, a true friendship arises between them; on many occasions, they give proof of great fighting skill, but also of compassion for other human beings. It portrays a belief in an innate "goodness" of mankind, albeit constantly threatened by ill-intentioned enemies.
Nondogmatic Christian feelings and values play an important role, and May's heroes are often described as German Americans.
Winnetou became the chief of the tribe of the Mescalero Apaches (and of the Apaches in general, with the Navajo included) after his father Intschu-tschuna and his sister Nscho-tschi were slain by the white bandit Santer. He rode a horse called Iltschi ("Wind") and had a famous rifle called Silberbüchse (The Silver Gun, a double-barrelled rifle whose stock and butt were decorated with silver studs). Old Shatterhand became the blood brother of Winnetou and rode the brother of Iltschi, called Hatatitla (Lightning).
No match records for this character.
No match records for this character.