| | |
| --- | --- |
| Character sourced from: Toons | |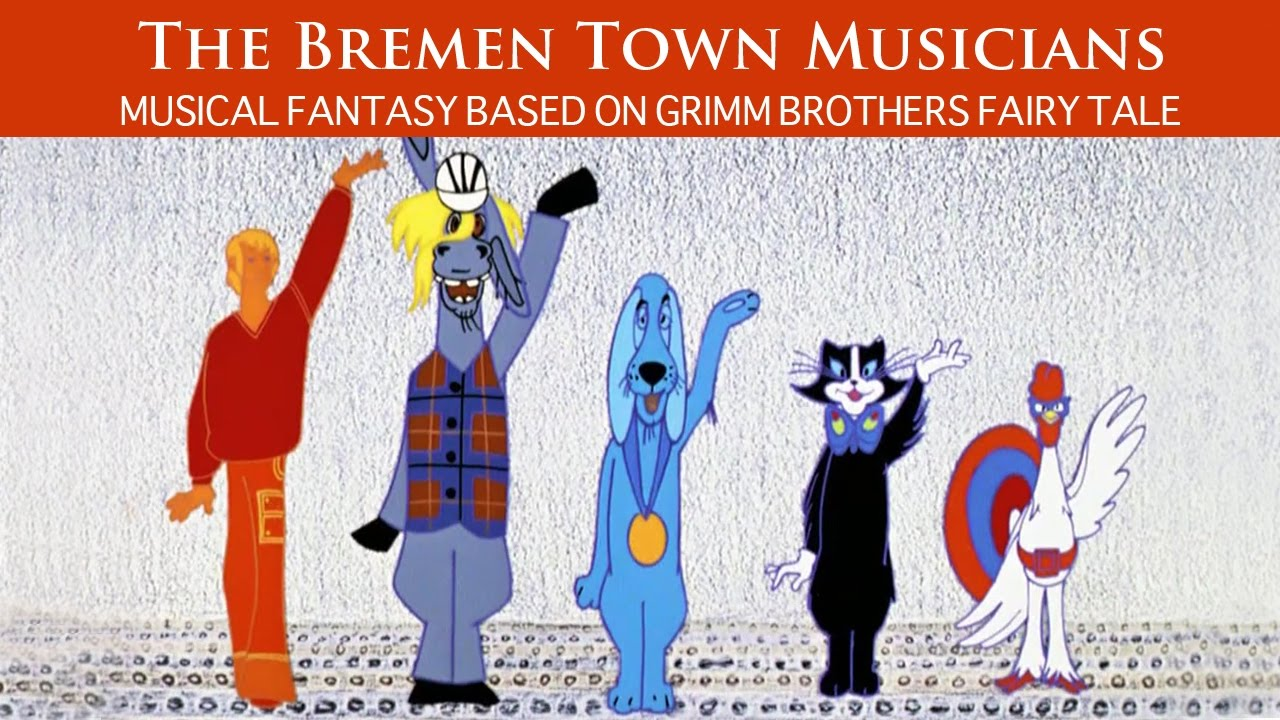 The Bremen Town Musicians
CBUB Wins: 2
CBUB Losses: 2
Win Percentage: 50.00%
Added by: Macklemore
Read more about The Bremen Town Musicians at: Wikipedia
Official Site: Soyuzmultfilm
The Bremen Town Musicians ( ) is a 1969 Soviet musical animated film produced by Soyuzmultfilm, directed by Inessa Kovalevskaya and written by Yuri Entin and Vasily Livanov, with music by Gennady Gladkov. It is based on the characters of Brothers Grimm fairy tale, Town Musicians of Bremen. The film became a cult hit in the Soviet Union because of its memorable musical soundtrack, which contains influences from Western rock 'n' roll music. One sequence in particular contains a musical motif inspired by the "I Want to Hold Your Hand" by the Beatles. Two sequels were made, including On the Trail of the Bremen Town Musicians (1973) and The New Bremen Town Musicians (2000).
A track from the film is available on Russian copies of the rhythm/dance game, Just Dance 2019 for 8th generation consoles & Nintendo Switch. It became available as a Just Dance Unlimited exclusive for regions outside of Russia on December 20th 2019. The track is streamed through the Ubisoft servers.
The cartoon focuses on a Donkey, a Dog, a Cat, and a Rooster and their master Troubadour (much more a classical five-pieces rock-band than a travelling circus). At the start of the cartoon, the band travels to a palace to do a show for the King and his subjects. During the show, Troubadour falls in love with the King's daughter, the Princess, and the band is subsequently thrown out of the palace by the king. Back on the road, Troubadour dreams of the princess and hatches a plan to win the King's consent. That night, the band chances upon a hut housing a band of crooks . Troubadour and the animals scare off the crooks and take possession of the hut. The next day, the King and his military escort are marching to a classified location when their road is blocked by Troubadour and his companions , who are disguised as bandits. The group chase off the soldiers and capture the King, before retiring to their hut. Troubadour then comes out of the hut as his regular self and "rescues" the King, thereby winning the King's favor. With the King rescued, the musicians lead a procession back to the palace where the King throws a party and Troubadour and the princess realize their love for each other. Meanwhile, the animals are thrown out of the palace and are forced to spend the night outside. In the morning, the animals call for Troubadour. Hearing no answer, however, they pack up their things and leave the palace, beginning a solemn rendition of the song they sang in the opening. To their surprise, one of the verses is sung by outside voices: Troubadour and the Princess. Now reunited, Troubadour, the princess, and the animals set off into the unknown.
All the Bremen town musicians are voiced by Oleg Anofriyev with the exception of the Donkey, who is voiced by Anatoli Gorokhov. The princess is voiced by Elmira Zherzdeva.
No match records for this character.