| | |
| --- | --- |
| Character sourced from: Toons | |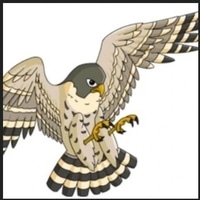 Freedom The Falcon
CBUB Wins: 0
CBUB Losses: 1
Win Percentage: 0%
Added by: ViceCityMobster86
Read more about Freedom The Falcon at: Wikipedia
Official Site: FOX
"The Falcon and the D'ohman" is the season premiere of the twenty-third season of the American animated sitcom The Simpsons. It originally aired on the Fox network in the United States on September 25, 2011. In the episode, the Springfield Nuclear Power Plant hires a new security guard named Wayne and Homer soon becomes friends with him. "The Falcon and the D'ohman" also reveals the fate of the relationship between the characters Ned Flanders and Edna Krabappel that was initiated in the previous episode of the series, "The Ned-Liest Catch", that aired in May 2011.
Actor Kiefer Sutherland guest starred in the episode as the voice of Wayne. This was the third time he appeared on The Simpsons. The episode also features a guest appearance by American chef and Top Chef judge Tom Colicchio as himself in a segment in which Marge dreams about being a contestant in a show similar to Top Chef. "The Falcon and the D'ohman" has received mixed reviews from television critics, with criticism directed at the plot and the cultural references featured. However, a reference in the episode to the computer animated re-enactments of news stories done by the Taiwan-based Next Media Animation has been particularly praised.
"The Falcon and the D'ohman" features a reference to the previous episode of the series, the twenty-second season finale "The Ned-Liest Catch" that aired on May 22, 2011. In that episode, the characters Ned Flanders and Edna Krabappel start dating. The episode ends with Homer and Marge Simpson giving viewers a link to the official The Simpsons website, TheSimpsons.com, and encouraging them to go on the website and vote over the 2011 summer on whether Ned and Edna should stay together. The result of the poll was revealed in "The Falcon and the D'ohman"—a majority had voted for the couple to remain in a relationship. According to executive producer Al Jean, the poll was "very strong in one direction".
One night, while Wayne is walking home in the rain and hail, he reluctantly agrees to let Homer drive him to Moe's Tavern for a drink, though insists they remain professional afterwards. While Wayne is in the bathroom, Snake dramatically crashes through the door on his motorcycle to rob everyone. As soon as Wayne comes out, he soundly beats up Snake. The story spreads quickly and a news segment that features an interview with Wayne by Kent Brockman and a computer animated Taiwanese dramatization of the incident soon airs on television. It is discovered that Wayne is a highly trained former CIA black ops agent, who decided to go into hiding in Springfield. He is plagued by recurring flashbacks from his previous missions, which cause him to act or shout them out, as evidenced when he unintentionally attacks Mr. Burns, the boss of the power plant, which results in Wayne being fired.
No match records for this character.