| | |
| --- | --- |
| Character sourced from: Toons | |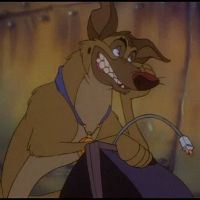 Charlie Barkin
CBUB Wins: 3
CBUB Losses: 1
Win Percentage: 75.00%
Added by: DSkillz
Read more about Charlie Barkin at: Wikipedia
Official Site: MGM Studios
All Dogs Go to Heaven is a 1989 Irish-American animated musical film directed and produced by Don Bluth and released by United Artists & Goldcrest Films. The film tells the story of two dogs, Charlie B. Barkin (voiced by Burt Reynolds) and his loyal best friend Itchy Itchiford (voiced by Dom DeLuise). Charlie is murdered, but he forsakes his place in Heaven to return to earth where he and Itchy team up with a young orphan girl, Anne-Marie (voiced by Judith Barsi in her final role) who teaches them an important lesson about honesty, loyalty, and love.
The film was produced at Sullivan Bluth Studios in Dublin, Ireland, funded by UK-based investors Goldcrest Films. On its cinema release it competed directly with an animated feature released on November 17, 1989, the same time as Walt Disney Pictures animated motion picture The Little Mermaid. While it did not repeat the box-office success of Sullivan Bluth's previous feature films (The Secret of NIMH, An American Tail and The Land Before Time) it was very successful on home video, becoming one of the biggest-selling VHS releases ever. The film inspired a theatrical sequel, a television series and a holiday direct-to-video film. The film was released on VHS and DVD November 17, 1998, and as a MGM Kids edition on March 6, 2001, and for the first time rendered in high definition on Blu-ray on March 29, 2011, with no special features, except the original theatrical trailer.
In 1939 New Orleans, Charlie B. Barkin, a roguish German Shepherd with a con man's charm, is working with his gangster business partner, Carface Carruthers, at a casino fashioned out of a derelict oil tanker. Not sharing the earnings, Carface frames Charlie and has him sent to a pound, but Charlie escapes with the help of his best friend Itchy Itchiford. Later, Carface and his sidekick, Killer, kill Charlie by hitting him with an empty automobile. Charlie, however, goes to heaven by default, despite never actually performing any good deeds, and meets a Whippet Angel, who tells him the reason of this is because of the movie's namesake rule of the afterlife: All dogs go to Heaven. Charlie cheats death by stealing his "life watch", a glowing pocket watch, and winding it back up, allowing him to return to Earth. As Charlie leaves Heaven, the Whippet Angel warns him that he can never return to heaven. Therefore, it is assumed that if he dies again he will automatically go to hell. However, Charlie quickly learns that his life is now tied to the "life watch," which means that he will live as long it is operating.
Back on Earth, Charlie reunites with Itchy and plots his revenge against Carface by setting up a rival business. Itchy reveals to Charlie that Carface has a monster, which prompts Charlie into investigating the monster. However, it is revealed that Carface is imprisoning a little orphan girl named Anne-Marie for her ability to communicate with animals, giving him an advantage when betting on races, which are apparently fixed so that those who speak the racing animals' language can know in advance of the outcome. Charlie "rescues" Anne-Marie, telling her that they will help the poor and he will find her a family. Charlie takes Anne-Marie to the local Horse Track, where a pensive Anne-Marie doesn't want to talk. When Charlie says the money is for the poor, like in Robin Hood, Anne-Marie agrees to help. After a time, Anne-Marie becomes upset due to Charlie not looking for parents. Charlie begins to make a large profit using Anne-Marie, who eventually attempts to leave when she realizes Charlie was using her in the same way that Carface was, but Charlie convinces Anne-Marie to stay by his side by promising to give to the poor, resulting in Charlie purchasing pizza and cake for orphan puppies who live in an abandoned church. Anne-Marie, however, finds the wallet which was stolen by Charlie from the horse race. Anne-Marie angrily corners Charlie accusing him. Anne-Marie then sleeps in the attic. That night, Charlie has a nightmare in which he is banished to hell and is attacked by a hellhound and his minions.
No match records for this character.