| | |
| --- | --- |
| Character sourced from: Sci-Fi | |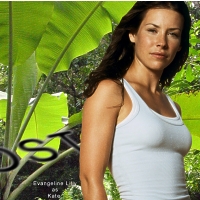 Kate Austen
CBUB Wins: 0
CBUB Losses: 1
Win Percentage: 0%
Added by: Aristotle the 2nd
Read more about Kate Austen at: Wikipedia
Official Site: ABC
Katherine Anne "Kate" Austen is a fictional character on the ABC television series Lost, played by Canadian actress Evangeline Lilly. She is the de facto female lead. In the original plot, in which Jack Shephard (Matthew Fox) dies when the group finds the cockpit, Kate was to emerge as the leader for the survivors, motivating them to build shelter and begin considering life as permanent residents of the island. In the original description for Kate, she was a slightly older woman separated from her husband, who went to the bathroom in the tail-section of the plane. However, that idea ended up being used for Rose Henderson (L. Scott Caldwell) and her husband Bernard Nadler (Sam Anderson). She is involved in a love triangle with Jack and Sawyer (Josh Holloway) and is seen as very protective of Claire (Emilie de Ravin) and her baby Aaron.
Born in 1978 and raised in Iowa, Kate is the daughter of diner worker Diane, and Sam, a U.S. Army Ranger and Gulf War Veteran. At an early age Kate's parents divorced, and Diane married an abusive alcoholic named Wayne. As an adult, Kate killed Wayne, which she confessed to her mother before disappearing. Wayne had always been abusive but Kate decided to kill him upon learning that he was her biological father. Diane called the authorities; thereafter Kate is pursued and ultimately arrested by Edward Mars.
Kate fled to Miami under the alias "Monica", where she dated and soon married a police officer named Kevin Callis (Nathan Fillion). After a pregnancy scare and Kevin's purchase of two Oceanic tickets to Costa Rica for their honeymoon, Kate confessed her fugitive past and laced his drink with a sedative before disappearing.
Months later Kate staged a robbery in New Mexico with several criminals to infiltrate a bank's safe deposit box, where Tom's toy airplane was being stored. She fled to Australia where, while sleeping in a barn, she was discovered by a farmer. Posing as a Canadian hiker, Kate worked on the farm for three months. When the farmer caught her attempting to sneak away, he offered her a ride into town the next morning. During the journey however, Kate discovered that the farmer had learned of her true identity and notified Edward Mars of her whereabouts. Kate grabbed the wheel and crashed the truck into a field but instead of running, she helped the unconscious farmer from his vehicle, giving Mars time to pursue and arrest her. Escorting her to the airport in handcuffs, Mars briefed local security officers on Kate's fugitive past and revealed his locked carry-on case containing five firearms. As the plane was bombarded with escalating turbulence, Mars was knocked unconscious by luggage from the overhead compartment. Kate stole the keys to the handcuffs and attached an oxygen mask to Mars and for herself, as the plane splintered and crashed onto the island.
No match records for this character.