Bizarro

CBUB Wins: 10
CBUB Losses: 18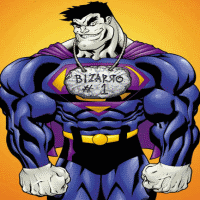 Bizarro is a fictional character that appears in publication published by DC Comics. The character first appeared in Superboy #68 (1958), and was created by writer Otto Binder and artist George Papp.
Debuting in the Silver Age of Comic Books, the character has appeared in both comic book and graphic novel, and other DC Comics-related products such as animated and live-action television series, trading card, toy, and video game.
Bizarro was Ranked #25 on IGN's List of 100 Top Comic Book Villains.
Bizarro debuted in Superboy #68 (Oct. 1958), writer Otto Binder casting the character as a Frankenstein's monster pastiche that possessed all the powers of Superboy. Shunned for his grotesque appearance, the teen version of Bizarro only appeared in a single comic book story. An adult version, however, followed soon after: debuting in the Superman daily newspaper comic strip, featuring in Episode 105: "The Battle With Bizarro" (Strips 6147-6242 :Aug. 25, 1958 to Dec. 13, 1958). This storyline also introduced the strange speech patterns that became synonymous with the character, with all of Bizarro's comments meaning the opposite (e.g.. "bad" means "good"). The newspaper version also wore a "B" on his chest, as opposed to the distinctive "S".
Read more about Bizarro at Wikipedia
Official Site: DC Comics
Researched by: Captain Universe