The Addams Family

CBUB Wins: 8
CBUB Losses: 2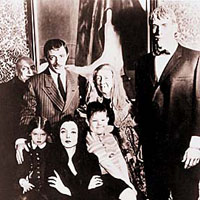 The Addams Family is a group of fictional characters created by American cartoonist Charles Addams.
The Addams's are a satirical inversion of the ideal American family; an eccentric, wealthy clan who delight in the macabre and are unaware that people find them bizarre or frightening. They originally appeared as a series of single panel cartoons, published in The New Yorker between 1938 and Addams' 1988 death. They have since been adapted to other media, including television series, films, video games, and a musical.
Addams's original cartoons were one-panel gags. The characters were undeveloped and unnamed until later versions.
The family appears to be a single surviving branch of the Addams clan. Many other "Addams families" exist all over the world. According to the film version, the family credo is, Sic gorgiamus allos subjectatos nunc (pseudo-Latin: "We gladly feast on those who would subdue us"). Charles Addams was first inspired by his home town of Westfield, New Jersey, an area full of ornate Victorian mansions and archaic graveyards.
Read more about The Addams Family at Wikipedia
Official Site: Charles Addams
Researched by: Captain Universe