| | |
| --- | --- |
| Character sourced from: Gaming | |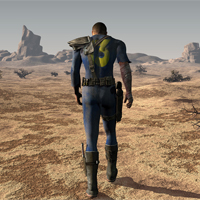 The Vault Dweller
CBUB Wins: 0
CBUB Losses: 3
Win Percentage: 0%
Added by: Ren
Read more about The Vault Dweller at: Wikipedia
Official Site: Interplay Entertainment Corp.
Fallout is a computer role-playing game produced by Tim Cain, developed by Black Isle Studios (though before the studio was named "Black Isle") and published by Interplay in 1997. The game has a post-apocalyptic setting in the mid-22nd century, featuring an alternate history which deviates some time after World War II, where technology, politics and culture followed a different course.
The game is sometimes considered to be an unofficial sequel to Wasteland, but it could not use that title as Electronic Arts held the rights to it; and, except for minor references, the games are set in separate universes. It was also intended to use Steve Jackson Games' GURPS system, but that deal fell through due to the excessive amounts of violence and gore included in the game, forcing Black Isle to change the already implemented GURPS system to the internally developed SPECIAL system.
Critically acclaimed, the game inspired a number of sequels and spin-off games, known collectively as the Fallout series.
Gameplay in Fallout consists of traveling around the game world, visiting locations and interacting with the local inhabitants, and is typically in real-time. Occasionally, inhabitants will be immersed in dilemmas which the player may choose to solve in order to acquire karma and experience point. Fallout deviates from most computer role-playing games in that it often allows for the player to complete tasks in multiple ways, often choosing solutions that are unconventional or even contrary to the original task, in which case the player may still be rewarded. The player's actions may ultimately dictate the ending of the game, or what future story or gameplay opportunities are available. Ultimately, players will encounter hostile opponents (if such encounters are not avoided using stealth or diplomacy), in which case they and the player will engage in combat.
No match records for this character.