Duane Dog Chapman

CBUB Wins: 2
CBUB Losses: 4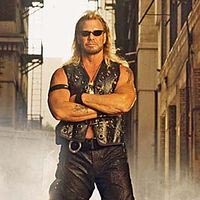 Duane Lee "Dog" Chapman (born February 2, 1953) is an American bounty hunter and a former bail bondsman. He stars in Dog the Bounty Hunter, a weekly reality television program which is broadcast on the A&E Network (USA), Virgin 1 and Bravo (UK/Ireland), FOX8 and GO! (Australia), and OLN (Canada), and RTL II (Germany).
Duane Lee Chapman was born on the 2nd of February 1953 to Wesley Chapman and Barbara Chapman. He is the eldest of 4 children, having two younger sisters and one brother. Duane was also a boxer in his youth; he was known as Dog Lee. As Duane grew up, he was a member of the Devils Diciples which is an outlaw motorcycle club. During this time Duane earned the name DOG because of his relationship with God. In 1972, Duane married LaFonda Sue Honeycutt, and they had two children together: Duane Lee Chapman II (born 1973) and Leland Blaine Chapman (born 1976). However, in 1977 Dog was sentenced to 5 years in prison at Huntsville, Texas for accessory to murder. Duane and Lafonda then divorced. Dog was released within 18 months but did not see his children for another 8 years. Shortly after Dog was released from prison, he married Anne M. Tegnall in 1979. They had three children together: Zebediah Duane Chapman (born 1980, died 1980), Wesley Chapman (born 1980) and J.R Chapman (born 1982) who was born after Dog and Anne divorced. Dog then met and married Lyssa Rae Brittian. They married on June 22, 1982. During their marriage they had four children: Barbara Katie Chapman, Tucker Dee Chapman, Lyssa Rae Chapman and Nicholas Chapman. They divorced on the November 20, 1991. Soon after this Dog married Tawny Marie Chapman. This marriage also ended in divorce and they had no children together. Dog married his fifth wife, Beth Chapman, on May 20, 2006. Alice Elizabeth Chapman (Beth) was born on October 20, 1967. Dog and Beth have two children together, Bonnie-Joanne Chapman and Gary Chapman. Beth also has two other children, Cecily Chapman from her previous marriage and Domonic Smith, of whom the state took custody when he was three years old. Dog Chapman, Beth Chapman, Leland Chapman, Duane Lee Chapman II and Lyssa Chapman all work together as bailbondsmen and bounty hunters.
June 18, 2003, Chapman made news with his hunt and capture of Max Factor cosmetics heir Andrew Luster, who at the time was in Puerto Vallarta, Mexico. Luster had fled the United States in the middle of his trial for drugging and raping a number of women, and was convicted in absentia on 86 counts including multiple rape charges connected to assaults in 1996, 1997 and 2000. Chapman was assisted by his "hunt team", consisting of his son Leland and his family friend Tim Chapman. After Luster's jailing, Duane Chapman was interviewed for a documentary which was published on 2009 August 28 by Dominick Dunne on Power, Privilege, and Justice broadcast via the TruTV network.
On September 14, 2006, days before the expiration of the statute of limitations, Chapman, along with his son Leland Chapman and associate Tim Chapman, were arrested by United States Marshals and jailed in Honolulu on behalf of the Mexican government. Mexican authorities had charged all three with deprivation of liberty, involving the 2003 apprehension of Andrew Luster, because they had not handed Luster over to them. After not obtaining permission to leave the country in 2003, the Mexican Government declared Duane, Leleand and Tim Chapman, fugitives from justice and tried to get them extradited to Mexico for sentencing. After spending one night in the federal detention center in Honolulu, Chapman told reporters: "The federal marshals treated us with great respect. But let me tell you, you never want to go to a federal prison, because it's terrible."
Read more about Duane Dog Chapman at Wikipedia
Official Site: Himself
Researched by: moesjr72907