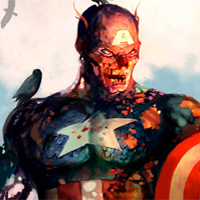 Zombie Colonel America
CBUB Wins: 0
CBUB Losses: 1
Win Percentage: 0%
Added by: Venom 2009
Read more about Zombie Colonel America at: Wikipedia
Official Site: Marvel
In addition to his mainstream incarnations, Captain America has also been depicted in other fictional universes.
The Marvel 1602 limited series presents an alternative history, Earth-311, in which a Captain America from the late 21st century is transported to the year 1602 after the Purple Man takes over the world- his enemy wanting to dispose of Rogers in such a way that there is nothing left of him in the present to inspire others-, where he assumes the identity of "Rojhaz", a white Native American who is presumed by the Europeans to be of Welsh ancestry. His arrival causes numerous alterations in reality, causing analogues of various Marvel Universe characters to appear in the 17th century instead, speculated by Uatu to be the result of the universe attempting to generate a means of repairing the damage caused to reality. Rogers refuses to return to the future because he wants to nurture a new United States free of prejudice from its very beginnings, but the 1602 version of Nick Fury forces him to return, accompanying him on the journey. Rogers noted that in his version of the late 21st century, he was the last true super-hero and was left alone fighting his own country - the United States - which had fallen under the rule of a tyrannical life-term President.
In the Age of X reality, Rogers was the leader of the Avengers, here a strike team intended to hunt down mutants. Although he initially believed in his mission to contain the danger that mutants could pose to the world, an encounter with a mutant 'nursery' protecting young children forced Rogers to recognise that he was on the wrong side, he and his team subsequently sacrificing themselves to stop the psychotic Hulk from launching a bioweapon at the mutant stronghold. Rogers' memories were 'stored' by Legacy, a who was able to convey his plan of using various mutants to generate force fields around the facility to cut it off from the outside world.
A story told from the first hand account of Rick Jones when sent back in time to the Second World War. Captured by Nazi troops, he is rescued by Captain America and Bucky. While initially believed to be Shell Shocked, he convinces them he is from the future when he reveals he knows their secret identities of Private Roger Stephenson (a brunette) and Bucky Barnes. When Barnes is murdered by the Red Skull, Jones takes his place as the new Bucky for a mission to stop Zemo's missile. At the end, with another time jump, Jones encounters a President Stephenson who needs his help.
No match records for this character.