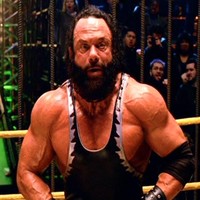 Bone Saw McGraw
CBUB Wins: 0
CBUB Losses: 2
Win Percentage: 0%
Added by: ViceCityMobster86
Read more about Bone Saw McGraw at: Wikipedia
Official Site: Marvel Entertainment
Spider-Man is a 2002 American superhero film directed by Sam Raimi and written by David Koepp. Based on the fictional Marvel Comics character Spider-Man, the film stars Tobey Maguire as Peter Parker, a high-school student who turns to crimefighting after developing spider-like powers. Spider-Man also stars Willem Dafoe as Norman Osborn (a.k.a. the Green Goblin), Kirsten Dunst as Peter's love interest Mary-Jane Watson, and James Franco as his best friend Harry Osborn.
After being stuck in development hell for nearly 25 years, the film was licensed for a worldwide release by Sony Pictures Entertainment in 1999 after it acquired options from M-G-M on all previous scripts developed by Cannon Films, Carolco and New Cannon. Exercising its option on just two elements from this multi-script acquisition (a screenplay credited to James Cameron, Ted Newsom, John Brancato, Barney Cohen and "Joseph Goldman" (pen name of Menahem Golan) and a later treatment credited solely to Cameron), Sony hired David Koepp to create a working screenplay from this "Cameron material." Directors Roland Emmerich, Tim Burton, Chris Columbus, and David Fincher were considered to direct the project before Raimi was hired as director in 2000. The Koepp script was rewritten by Scott Rosenberg during preproduction and received a dialogue polish from Alvin Sargent during production.
Filming took place in California and New York City from January to June 2001. Spider-Man was released on May 3, 2002, and became a critical and financial success. With $821.71 million worldwide, it was 2002's third-highest-grossing film and is the 31st highest-grossing film of all time. Reviews were very positive with critics praising the film in several aspects. Spider-Man was, for its time, the only film to reach $100 million dollars in its first weekend, the largest opening weekend gross of all time, and the most successful film based on a comic book. The film's success marked the beginning of a Spider-Man film series, with sequels Spider-Man 2 (2004) and Spider-Man 3 (2007) released, directed by Raimi with Maguire, Dunst and Franco reprising their roles. The film series was rebooted with The Amazing Spider-Man, directed by Marc Webb and released on July 3, 2012.
High school senior Peter Parker (Tobey Maguire) lives in Forest Hills, a quiet suburban neighborhood in the New York City borough of Queens, with his Uncle Ben (Cliff Robertson) and Aunt May (Rosemary Harris). He secretly loves Mary Jane Watson (Kirsten Dunst), a warm-hearted girl next door, but he is too shy to approach her. His best friend Harry Osborn (James Franco) is the son of Dr. Norman Osborn (Willem Dafoe), president of the Oscorp manufacturing corporation, which is working to win a contract to supply weapons to the United States Army.