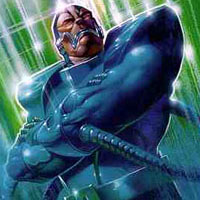 Apocalypse
CBUB Wins: 32
CBUB Losses: 32
Win Percentage: 50.00%
Added by: Thunder Phoenix
Read more about Apocalypse at: Wikipedia
Official Site: Marvel Comics
Apocalypse is a fictional character from various comic book and graphic novel published by Marvel Comics. The character made his debut in the mid-1980s X-Men spin-off series, X-Factor (vol. 1, 1986–1991), and was created by writer Louise Simonson and artist Jackson Guice. Apocalypse was introduced in X-Factor as a centuries-old mutant obsessed with the Social Darwinist philosophy of survival of the fittest. The character employs highly advanced technology in his schemes, such as transforming Angel into one of his Four Horsemen and infecting Cyclops' son with a "techno-organic virus". Although the character first appeared in X-Factor, the unnamed benefactor of the Living Monolith in Marvel Graphic Novel #17 (1985), has been identified as Apocalypse in disguise. The super villain Moses Magnum who fought the X-Men during the late 1970s, was later revealed to have been a minion of Apocalypse in Classic X-Men #25 (vol. 1, September 1988). Apocalypse's real name, En Sabah Nur, including his birthplace (Egypt), and the alien origin of his technology, was revealed in a flashback in X-Force #37 (vol. 1, August 1994). The origin story of Apocalypse relates that he is the first mutant, born 5,000 years ago. In 1995, the popular storyline known as the Age of Apocalypse was created, an alternate timeline in which Apocalypse has conquered much of the world, which temporarily replaced the main Marvel universe.
In 2008, Apocalypse was ranked #3 at Marvel.com on their list of Top 10 X-Men villains over the past four decades. In 2009, Apocalypse was ranked as IGN's 24th Greatest Comic Book Villain of All Time.
The writer of the first five issues of X-Factor, Bob Layton, intended to use the Daredevil villain Owl as "the master" of the Alliance of Evil, mentioned in X-Factor #4 (vol. 1, May 1986). When Layton however was removed from the book and replaced with Louise Simonson, she requested that the last page of X-Factor #5 be changed to a shadowy character named Apocalypse, as Simonson wanted a new character to be the main villain for the book. Apocalypse was the principal adversary of X-Factor, until being apparently killed at the climax of issue #68 (July 1991). The character returns in X-Men #14 (vol. 2, November 1992), part of the X-Cutioner's Song crossover; though, the character is again, apparently killed off at the end of this crossover, in X-Force #18 (vol. 1, January 1993).
During the Onslaught crossover, Apocalypse is resurrected in Uncanny X-Men #335 (vol. 1, August 1996). The origin story of Apocalypse is detailed the following year, in the character's own four-issue miniseries, titled Rise of Apocalypse, written by Terry Kavanagh and penciled by Adam Pollina. The same year, Apocalypse plays a part in the origin of Exodus in Black Knight: Exodus, and Mister Sinister in The Further Adventures of Cyclops and Phoenix.