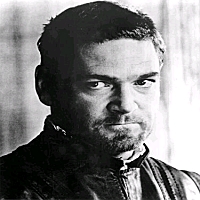 Iago
CBUB Wins: 0
CBUB Losses: 4
Win Percentage: 0%
Added by: Maestro
Read more about Iago at: Wikipedia
Official Site: Public Domain
Iago is a fictional character in Shakespeare's Othello (c. 1601–04). The character's source is traced to Giovanni Battista Giraldi Cinthio's tale "Un Capitano Moro" in Gli Hecatommithi (1565). There, the character is simply "the ensign." Iago is a soldier and Othello's ancient (ensign or standard bearer). He is the husband of Emilia, Desdemona's attendant. He hates Othello for passing him up for promotion, and so devises a plan to destroy the Moor by making him believe that his wife, Desdemona, is having an affair with his lieutenant, Michael Cassio.
Othello has its source in the 1565 tale, "Un Capitano Moro" from Gli Hecatommithi by Giovanni Battista Giraldi Cinthio. While no English translation of Cinthio was available in Shakespeare's lifetime, it is possible Shakespeare knew the Italian original, Gabriel Chappuy's 1584 French translation, or an English translation in manuscript. Cinthio's tale may have been based on an actual incident occurring in Venice about 1508. In Cinthio, Iago's counterpart is simply "the ensign."
While Shakespeare closely followed Cinthio's tale in composing Othello, he departed from it in some details. In Cinthio's tale, for example, the ensign suffers an unrequited lust for the Moor's wife, Desdemona, which then drives his vengeance. Desdemona dies in an entirely different manner in Cinthio's tale; the Moor commissions his ensign to bludgeon her to death with a sand-filled stocking. In gruesome detail, Cinthio follows each blow, and, when she is dead, the Moor and his ensign place her lifeless body upon her bed, smash her skull, and then cause the cracked ceiling above the bed to collapse upon her, giving the impression the falling rafters caused her death.
The two murderers escape detection. The Moor misses his wife greatly, however, and comes to loathe the sight of his ensign. He demotes him, and refuses to have him in his company. The ensign then seeks revenge by disclosing to "the squadron leader" (the tale's Cassio counterpart), the Moor's involvement in Desdemona's death. The two men denounce the Moor to the Venetian Seignory. The Moor is arrested, transported from Cyprus to Venice, and torture, but refuses to admit his guilt. He is condemned to exile; Desdemona's relatives eventually execute him. The ensign escapes any prosecution in Desdemona's death, but engages in other crimes and dies after being tortured.